If you're itching to get out to mix with some creative types or shop some wonderfully curated crafty-wares, might I suggest a quick (snowless) jaunt to Toledo this weekend for Handmade Toledo's Spring show, Maker's Mart?
At this two day event you can shop 80+ handmade vendors, sip local coffee, dine on some of Toledo's favorite food trucks, peruse the newly renovated and restocked Handmade Toledo Maker Shoppe.
Here's a little more from the lady herself,
Oh Sew Betty
's Betty Floored.
What can shoppers expect from a Spring show that might be a little different from the holiday season?
I think that Spring shows are a little bit more laid back and lighthearted than shows around the holiday season. It is finally warming up out there, there is a sense of renewal in the air, and the abundance of daylight hours are definitely a plus. Spring shows are usually when us makers are debuting our new lines, new products and styles we have been tinkering on and perfecting during the calm after the holiday season storm. 
What crafty trends are turning your head these days? 
Lately, I've been pretty obsessed with all things leather. I just got an industrial walking foot machine in th estudio and it is really fueling my fire to work with more badass materials. I really love its durability and how it can be shaped and formed into pretty much anything. Shoes, bags, watches, belts, clothing, furniture, you name it, it can and has been made out of leather. 
Are there other special events or classes people can find out about, once Makers Mart wraps up? 
We will be a stop on the monthly 3rd Thursday Art Loops starting in May. We will have special events each month (pop ups, workshops, demos, etc.) and have extended hours in the Maker Shoppe.
We are also in the process of building a workshop/classroom area to bring you some cool hands on, make and take, skillshares and open crafting fun.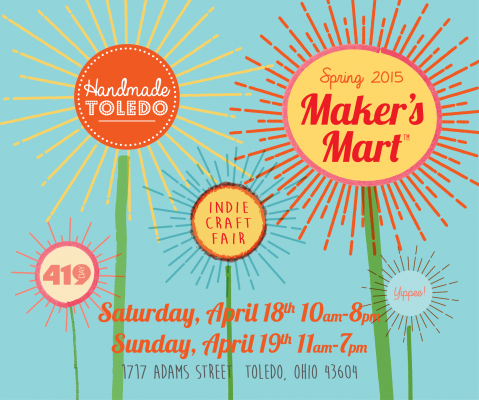 Maker's Mart is this Saturday, April 18th 10am – 8pm and Sunday, April 19th
11am-7pm
1717 Adams Street in Uptown Toledo
$1 suggested donation