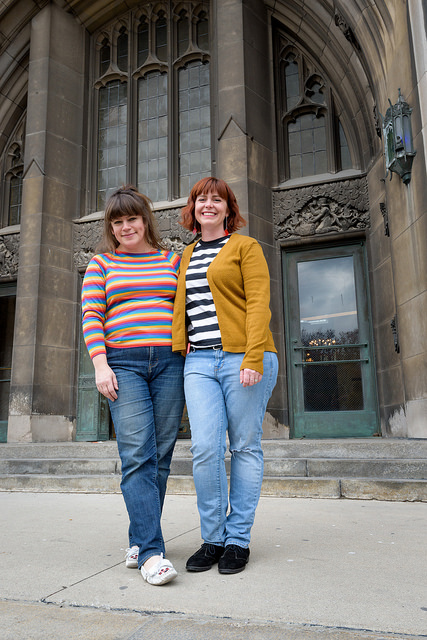 Handmade Detroit is Carey Gustafson and Bethany Nixon.
We believe in the unique value of handmade goods, the act of creation and good old community building. We believe that anyone in Detroit who hems a pair of pants, knits a gift for a friend or sells their handmade goods is helping to redefine sustainability, consumerism and the future of our city and Michigan.
We produce The Detroit Urban Craft Fair, Michigan's first and largest indie craft fair each December.
About this website
HandmadeDetroit.com is a community hub for Detroit and Michigan indie crafters.
Our blog was started in March of 2006, and it continues to "Put the D in DIY" by covering crafty and DIY issues, championing local makers and sharing projects – all with a local focus.
We welcome ideas, submissions and crafty comments. After all, to quote our very first post, this website "is really about you. Out there. Making stuff."
Here's a little more about how this site works.
Our DIY calendar lists events in Michigan. We do our best to accurately report events produced by others but cannot answer questions related to them. Please contact that event's producers for more information.
Make sure to take a poke around our past, too. Our large archive of blog posts includes projects for every major holiday, profiles and interviews, and tons more.
About advertising
A variety of sponsorship and advertising opportunities exist. To learn more about them, please use the contact form.
Get in touch
To submit ideas, products or ask questions, please use the contact form.
Donate
If you have had a great time shopping DUCF over the years, following us on social media, or using our resources, we ask you to consider donating online to Handmade Detroit to help support our team. All donations are much appreciated!