Handmade Detroit friend and DUCF volunteer Sarah Shackleford just got done reviewing and trying out the anniversary edition of Subversive Cross Stitch: 50 F*cking Clever Designs for Your Sassy Side book for us. Sarah blogs under the name Bring More Yarn when she isn't super busy with art school and livin' an awesome DIY life. Read on!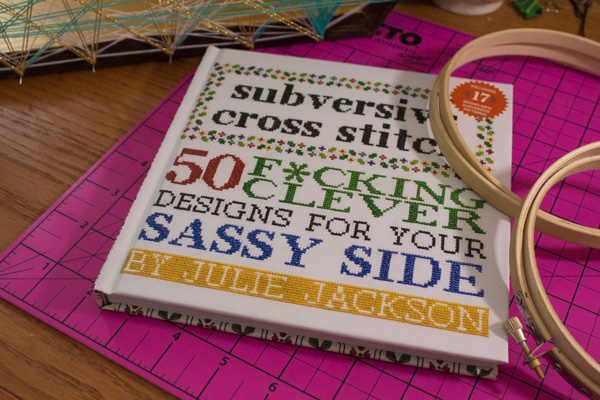 Hey Dolls! I'm Sarah from Bring More Yarn (which is sadly on hiatus, but come check out my youtube channel). Amy and my favorite people over at Handmade Detroit asked me if I wanted to review the Subversive Cross Stitch anniversary book by Julie Jackson and I just couldn't say no. I've been a big fan of subversive cross stitch for years, and it's really thrilling to see them celebrating a big milestone like ten years. It's even more thrilling to know it comes with a book of patterns.
The book itself is really impressive. Hard cover with full color photos it is a real gem for anyone who likes to collect pattern books or even just tongue in cheek craft books. It comes with a lot of the classic patterns and some brand new digs. Each pattern has a photo of the finished work and a full color grid. They all also come with a little blurb from the subversive folks. All of which are written in the humor you'd come to expect from them. If you've never cross-stitched but are dying to make your own 'Babies Suck' don't worry, the book comes with instructions on how to get started and how to make each type stitch. Real talk, I didn't go over this section too deeply, but what I read looks great and it's nice to have a resource right in the book in case you forget something.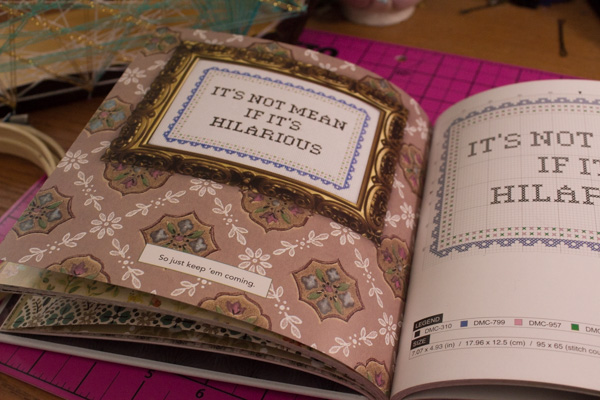 The only drawback, and it's barely that, is the charts. For years all the charts I've used have had symbols that represent the colors, though now that I think of it I'm not sure I've ever used a color chart! This is isn't even really a draw back, it's just something I'm not used to. The DMC colors are listed on the side of each pattern so it's not a huge deal to figure out what belongs with what. It's something that you could definitely get adjusted to easily.
Over all I'm really impressed with this book. I have a lot of classic cross-stitch books and they've got their charm, but this one is really something for the modern crafter. Because of how gorgeous and funny this is, I'd even put this out on a coffee table. It would definitely be an ice breaker!
Thanks Sarah!
Disclaimer: This is a sponsored post. We received a copy of the anniversary edition of Subversive Cross Stitch: 50 F*cking Clever Designs for Your Sassy Side from Powerhouse Books; no other compensation was given. All opinions are ours and Sarah's.