This Saturday you can kick off your Holiday shopping in the Smallest of ways. SHOP SMALL or Small Business Saturday is an amazing campaign to put profits directly into the pockets of makers, artists, entrepreneurs and incubator businesses, right in your home town.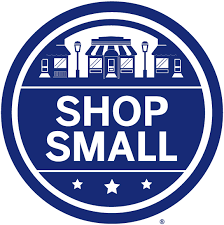 In my small town of Ferndale, MI, our neighbors have been busily sharing on our Facebook pages local specials and events.
City Bird and Nest have been working around the clock to relaunch with an expansion. It's truly amazing to see how much our DUCF alum has accomplished! Check out their plans for today and tomorow:
"11/28 Black Friday at City Bird and Nest: We'll have extended hours at both shops from 10-8, with morning treats and refreshments served all day! We'll be offering exclusive giveaways and promotions all day as well as our great selection of holiday gifts, ornaments and cards. Be one of the first 25 customers of the day for a special surprise!
11/29 Small Business Saturday at City Bird and Nest: We're thrilled to partner with Etsy Wholesale for Small Business Saturday this year! Both shops will have extended hours from 10-8 and City Bird will be hosting an all-day trunk show featuring work from four of our favorite local Etsy jewelry sellers: Chain Chain Chained, Courtney Fischer, The D. The Jewelry, and Rebell Nell.  Stop by between 2 and 5pm to meet the designers. Both shops will be featuring our Holiday 2014 merchandise, refreshments, and special giveaways and promotions all day!"
So no matter where you find yourself this weekend, this season, year round – know that by shopping small business is doing a world of good.