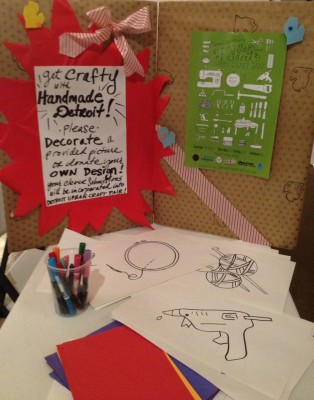 Shocking but true, we're exactly one month away from the 8th annual Detroit Urban Craft Fair!
HD has partnered with our friends at Ferndale's Rust Belt Artist Market once again to help beautify the show. If you've seen their store you know how wonderful their installations of recycled materials are. Or perhaps you snapped a photo at DUCF last year in front of their life-size Gingerbread House?
Over the next several weekends the Rust Belt will be hosting an HD Decoration Station. Guests big & small are encouraged to either create your own holiday themed picture, letter to Santa, cartoon, ornament, etc. – however you feel moved to share the holiday cheer. There are also hand drawn pages inspired by our 2013 poster artist Jodi Lynn Burton's crafty tools to color as well. These masterpieces will be collected and utilized in a beautiful installation at DUCF this year!
If you want to make something at home, you're welcome to drop it with Chris or Tiffany Best during the Market's regular hours as well (small and light weight, please!) Thank you for being such a wonderful part of our event this year; We cannot wait to see what you come up with, and share in it together at Detroit Urban Craft fair 8!! "