Hi guys! The folks at Welch's heard how much Lucy loves their fruit snacks and a few weeks later some yummy samples arrived on our porch! With the package came a crafty catch.
"Easter Egg hunts are a fun, exciting and engaging activity for all ages.   Welch's Fruit Snacks make snack-size individually wrapped packages (.9 oz packages) of Welch's Fruit Snacks that fit perfectly into the plastic eggs for the traditional Easter Egg hunt, which can then be then easily made into beautiful Easter Dinner Center Pieces."
My kiddo already had hard-boiled eggs on the brain so I twisted the centerpiece challenge a little. Com'on, I had to!
I wanted to try and make some Bunny's. But with what? Edible? YES. Let's continue on the "treat" theme. I grabbed some Marshmallows, green Jell-O, and a dessert that looked like a "log". A briar patch? A farm? Let's go with it.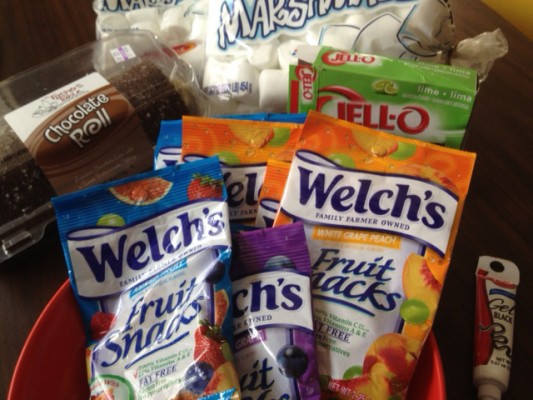 I got the Jello mixed and chilling, and started on the Bunny's. My three-year-old "helped" by doing some taste testing. I couldn't remember. Do Marshmallows stick together? Let's see….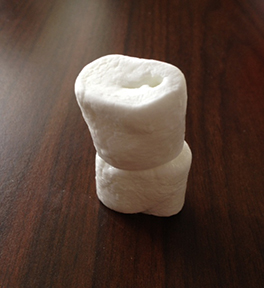 Alright! Great. (Trust me, they're stuck.)
OK. Bunny's. Bunny shapes. I'll split one in half  for ears, add fruit treats for eyes, and decorate with some cake decorating gel!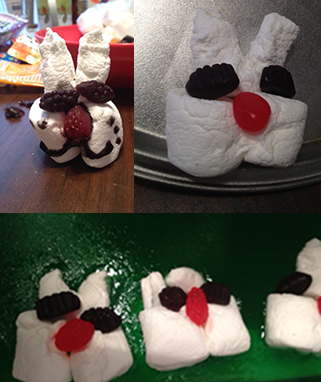 The first attempt was terrifying, so I skipped the extra features. These plain guys are kind of cute! Then when the Jello was almost ready, I laid the bunny's in place and the cake "log" and an egg for kicks.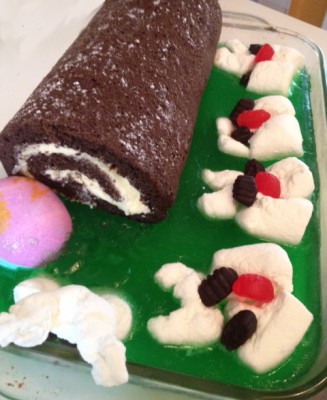 What's that on the side? Oh, I thought poking one "underground" would be cute. Errr…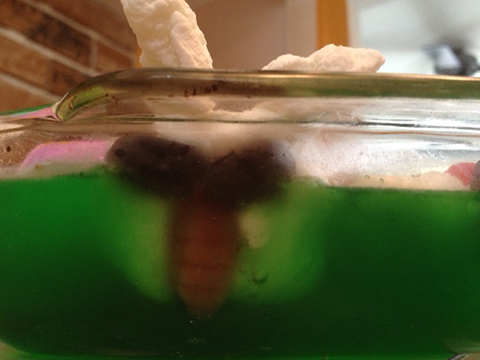 Nope. Also frightning! Ah well. Crafting with food can be so fun, even if it doesn't turn out perfect. Thanks again to Welch's for the tasty craft challenge! Happy Easter, everyone!