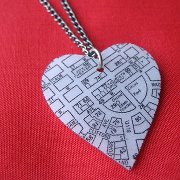 Need to get a last minute Valentine's gift? Visit VLNTNSDYMRKT, a pop up shop open only on Valentine's Day from 12-7 in Detroit! From their Facebook event page:
Pot & Box is hosting a pop-up valentine's day market in detroit, on michigan avenue at 17th, in corktown, just past roosevelt park.
We'd love for you to visit to support local makers & artisans, while helping to activate the space.
our lovely vendors:
alma pottery
asta crochet
beau bien foods
beautiful soup
the beignet truck
bocadoce
cellar door soap
chain chain chained
chuppy love
city bird
courtney fisher jewelry
cyberoptix
detroit vintage
international robot
ella sven
ethel's edibles
goest perfumes
great lakes coffee
hello ice cream
hell yes jess
jenstyle.com vintage
la carotte sauvage
the mac shack
m lynn design/yoga suite
motown freedom bakery
nightshade army industries
pete's chocolates
salt lab pillows
sibling design
sloe gin fizz
small moments
stephanie day massage
sweet heather anne
the brinery
the southern pantry company
treats by angelique
warpaint studio
wet house printing
For more information and to RSVP, visit the Facebook event page at http://www.facebook.com/events/593253050701915/