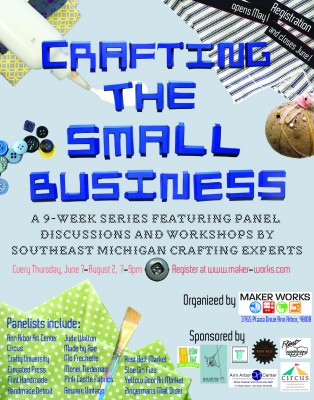 Crafting the Small Business is a 9 week series of panels featuring many local crafters, bloggers and experts to help other local artists in different aspects of small business, all organized by Maker Works. Courses include:
– Visioning
– Pricing and Revenue
– Your Marketing Toolbox
– Art of Giving Great Service
– Pop Up Events and Shows
– Photography and Styling
– Into The Online Marketplace
– The Brick and Mortar Store
– Ethics of Handmade: Taxes and Insurance
Two sessions include Handmade Detroit members – Pop Up Events and Shows features Lish, and Bethany is in the Into the Online Marketplace panel. The sessions take place weekly starting June 7th, on Thursday evenings at Maker Works in Ann Arbor. Learn more about this series and how to register on the Maker Works website.