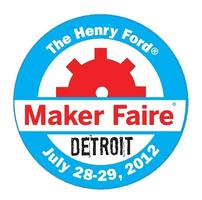 I can't believe it's May and I can't believe that Maker Faire Detroit is just a few months away! Handmade Detroit is so excited to join the gang over at The Henry Ford year three of Maker Faire in Detroit with Craft Faire. Applications will be going live next week, but here are a few snippets to hold you over until then:
Applications go live the week of May 7
Applications close May 31
Crafters will be notified June 15

You'll find Handmade Detroit inside the museum again this year taking up residence in the aviation gallery with some other talented folks! If you're interested in volunteering with Maker Faire or possibly giving a talk or leading a demo, make sure to leave a comment and let us know.

Have any questions? Make sure to visit the next community meeting at i3 Detroit next week or stop by Craft Revival on May 12 to ask us in person.