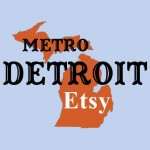 Metro Detroit Etsy Team member Jodi Lynn Burton sent this in, check it out:
"The Metro Detroit Etsy Team, a group of local crafters who sell on Etsy, are hosting a Craft Faire to help celebrate the Grand Opening of the TechShop. The Techshop is a community of makers, artisit, crafts, engineers, inventors, and dreamers. It is a place where you can build your dreams.
The Grand Opening and Craft Faire will be Saturday and Sunday May 5th and 6th from 10 a.m. till 5 p.m.
The TechShop is located on 500 Republic Drive in Allen Park Michigan 48101."
Roll call! Will you be selling at this event? Let us know in the comments.