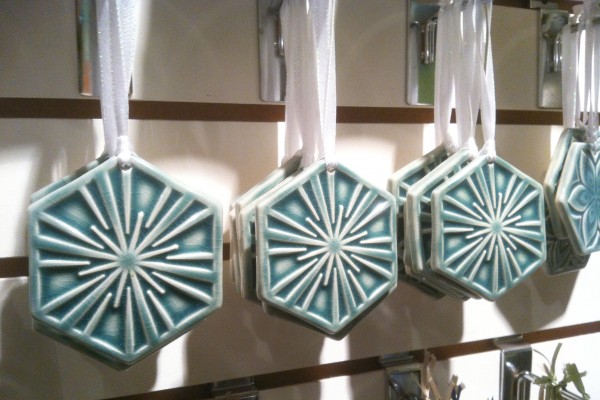 I had a great time shopping at Pewabic Pottery for the first time last week at their "Holiday Shopping Eve" night. Having heard so much about Pewabic for years, I was very excited to check it out, and was amazed to see a packed shopping night and really beautiful gifts for sale!
Lou at Pewabic gave me a mini-tour of the different rooms, and the back of the building where all the molds are stored and the pottery is made. I was even able to meet one of Pewabic's artists who was working on making more of their limited edition ornaments! Lou also explained to me all the different types of glazes available and a bit of the 100+ year old history of Pewabic.
If you have any last minute Christmas shopping to do, Pewabic has a gift for just about anyone. There are cute items for decorating kid's rooms, vases of all sizes, Michigan themed tiles and trivets, and ceramic jewelry. Their "12 Days of Christmas" ornament series would be a great addition to your Christmas tree, or pick up one of their other ornaments as a hostess gift for your New Year's party!
To learn more about Pewabic Pottery, schedule a tour, or take part in a workshop, check out Pewabic's website, or visit them at 10125 E Jefferson Ave Detroit, MI 48214. Want to see more pictures from my visit? Check them out on our Flickr set!