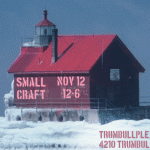 Amy here!
I'm so excited to share with you that my family and I are embarking on a new business adventure in Detroit called Small Craft! Small Craft will sell upcycled craft supplies on a pay-as-you-wish basis, as well as offer up workshops for learning new crafts and helping small businesses.
Our ultimate goal is to open a brick and mortar shop in the Cass Corridor of Detroit. Until that day comes, we will be hosting a pop-up shop on the second Saturday of each month inside the Trumbullplex Theatre, located at 4210 Trumbull in Detroit, as well as showing up at a local fair here and there.
You can help us kick off the first Small Craft event  this Saturday, November 12, from 12:00-6:00PM. Come peruse the supplies we have on hand, learn a new skill, and enjoy the Trumbullplex Zine Library's open hours!
This month's free workshop will teach you how to knit a hat or neck warmer. A list of the supplies you will need, and pictures of the finished project can be found here. If knitting is not your thing, you are welcome to bring a craft of your choice to work on (or buy supplies from us for a new craft!), drink some coffee, make, and find some new friends. The knitting workshop starts at 2:00.
Got some supplies laying around that you never got around to using? Need to clean out that basement? Donations are heartily accepted, it's what makes our business! If you donate unwanted craft supplies, you will receive a coupon good for a discount on one of our future workshops, or new supplies we will feature at the permanent location. Bring them with you this Saturday, or we'll come and pick them up for you!
Wanna be a part of Small Craft? Come teach! We are currently looking for workshop leaders for 2012. If interested, you can contact me at: smallcraftdetroit@gmail.com. We are also looking for drop off points for people to bring supplies. If you are a business with a physical address and want to participate, please contact me!
Thanks, and hope to see you this Saturday!