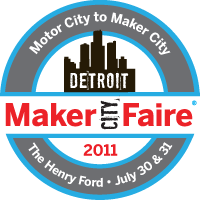 Can you believe it's almost time for Maker Faire Detroit again?! We're getting pretty excited with planning and brainstorming for this year's event. We're pleased to announce that Handmade Detroit will return to the faire with the official craft fair offering, Craft Faire, July 30-31. We've got around 25 spots for the fair. This year is a bit different than last year. This summer we'll be located inside the Henry Ford Museum's promenade, a gorgeous walkway located at the front of the building. Located next to some artifacts, all craft-related activities are headed inside this year as a must-see destination during the two-day event. We're located next to a cute courtyard that will house demos and make-and-take areas, so the crafty vibe will be all around. We're pretty excited!

The Nitty Gritty
Fee to apply is $5 – You can apply here
Vendor fee is $90
Applications are now live – they will close Tuesday, May 31
All applicants will be notified the week of June 13
Each vendor will be given a six-foot table and chairs – the spot is yours to do with what you like!
Should I apply on my own or here?
We often have folks wonder if they should apply to the Craft Faire or to Maker Faire Detroit as a "maker." If you're looking for a fun, hip atmosphere with other crafters, than applying to the Craft Faire is the way to go. If you think you need a bigger space to show off your goods, then applying to be a maker is the way to go. You can go do that here.
The crowd at Maker Faire loves to create things on their own, too! Think about selling kits, instruction packets, or even make things on site!
How else can I get involved?
We're on the hunt for folks who'd like to give a demonstration, no matter the subject. If you'd like to lead a demo, volunteer, or simply learn more, please leave a comment below – we'll get in touch with you!