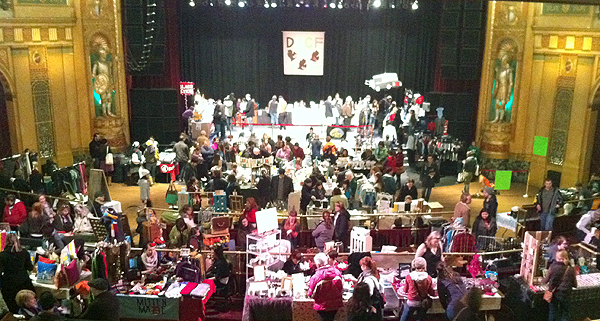 We don't think we could've have said it any better ourselves … here's what some of our shoppers had to say about this year's Detroit Urban Craft Fair:
The Fillmore was packed full of crafty goodness – like Etsy in real life!
There were so many great handmade wares that I ended up buying more for myself than gifts for others …
… held at the Fillmore in downtown Detroit. It's a beautiful theatre with painted freezes …
Hit up the Detroit Urban Craft Fair this weekend. Awesome, as usual!
It was Robocop who originally caught our eye…
I saw some nice bike products at the Detroit Urban Craft Fair.
I managed to leave Detroit with some money left in my wallet …
and some of our vendors:
There is a great crafting community in this city that has grown a lot since the beginning …
The Detroit Urban Craft Fair this past weekend really was like Christmas morning …
I had a bang up first day at DUCF, it pretty much obliterated my stock of well … everything.
… a craft fair is like a marathon. it's crazy preparing to get there, and then when it's all over …
… the venue — the Fillmore Theater — was spectacular …
.. .all of the amazing vendors – you all are seriously inspiring …
and the press too!
Checking out the Detroit Urban Craft Fair, and the beautiful Palms/State/Fillmore theater
The event was a collective of over 70 local and national artists
DUCF as it is affectionately called is a showcase of talented makers and the materials they bring to life.
Thanks for all your kind, crafty words guys!