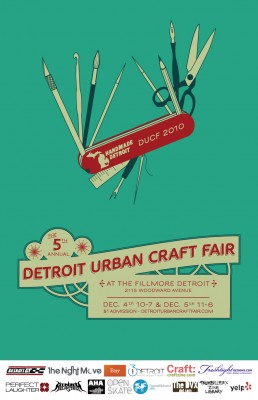 With DUCF just around the corner, we thought it was a good time to write a little post that gathers all the important details in one place. Here's what to expect, the when and where, and even how to get there.
The 5th annual Detroit Urban Craft Fair is an indie craft fair hosted by Handmade Detroit featuring over 75 vendors selling hip, handmade goods.
The fair serves as an alternative to typical holiday big box store shopping, showcasing local and national independent artists. We happen just once a year and this year is our 5th anniversary!
Make-and-take project areas will be hosted by the slew of 2010 DUCF sponsors. (Lish will be writing about all these awesome projects in the next two weeks, so check back soon — and often!) And our new Neighborhood Lane area will feature local brick and mortar shops Bureau of Urban Living, City Bird, Detroit Manufacturing, Goods Detroit and Pinwheel Bakery. You'll also be able to grab lunch — and a drink — at the Fillmore concession stand.
When is it?
10 a.m. to 7 p.m. Saturday, Dec. 4
11 a.m. to 6 p.m. Sunday, Dec. 5
Where is it?
Fillmore Detroit
2115 Woodward Ave, Detroit MI 48201
How much does it cost?
Admission is just a $1 and helps cover the cost of running the fair. Coming back for both days? Ask for a wristband at the entry table and get in free Sunday.
Where do I park?
Because the Fillmore is right across the street from Comerica Park, there is tons of parking — mostly in paid lots. We did a little digging and found that Saturday morning parking will be at a reduced rate ($2-3) until early afternoon, then event rates will go into effect, as The Fox Theatre has an event that afternoon.
On Sunday, there is a Lions Game in the afternoon, so we recommend carpooling to make parking more affordable. For another cheap option, you can try to snag some street parking or jump on The People Mover, which has a stop very close to the Fillmore (Grand Circus Park).
Take our free shuttle!
Want to skip the parking hunt? We are partnering with the Night Move to provide a FREE shuttle bus service all weekend during fair hours (10 a.m. to 7 p.m. on Saturday, and 11:00 a.m. to 6 p.m. on Sunday) for our patrons!
We will be picking up and dropping off patrons at:
Slow's BBQ
2138 Michigan Ave, Detroit, Michigan 48216
and
City Bird
460 W. Canfield, Detroit, MI 48201
The shuttle will run on a continuous loop from Slow's to City Bird to DUCF (a 20-25 minute ride total for the entire loop).
I'm coming!
Awesome! Please take a minute to RSVP on DUCF Facebook event page.
Have a question about the fair? We'd love to hear it!