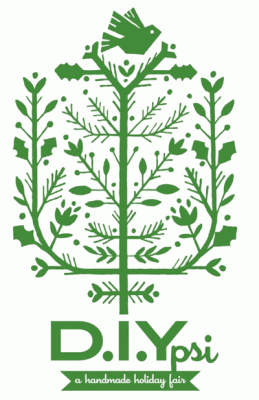 Anyone that loves buying handmade and local creations won't have a hard time finding those perfect gifts for friends and family this year. There are quite a few excellent shows springing up all over Michigan!
On December 11th, the Handmade Detroit crew will be heading out to D.I.Ypsi at The Savoy in Ypsilanti, Michigan! I scoped out the recently launched D.I.Ypsi site for all the show info and press goodies, but wanted to ask co-founder Marcy Davy a few more questions about her and her team.
Sherri Green Carroll has been selling her work and traveling the country show hopping for years. 3D collages are where it's at for her these days. And Cre Fuller's the talent behind those shiny, irresistable tin men remade and rewired by tearing about found junk – old percolators and food processor blades and stuff. Cool, right?
Marcy Davy is a true talent. Her prints caught our eye and her kindness forged a team friendship that thankfully has seen her helping out at HD events. Marcy comes from a big family that's been quilting, wood-working, painting and maple syrup-making for years! Handmade holiday gift exchanges go way back in family traditions. When printmaking was introduced to her in collage she became addicted to the process.
I asked her if she'd had a first indie craft show moment that sparked her in any special way that maybe was a peek into the future. "I was totally unprepared for and blown away by that day. I didn't really even know that much about the handmade movement in Michigan at the time, and I had just opened an Etsy shop a month before. The sheer number of shoppers, all people choosing to buy locally made goods that were beautiful, well-constructed  treasures — it absolutely blew my mind. I left that day filled with possibilities and for the first time, feeling like I was part of a community of makers who were all so incredibly talented and kind."
A few more years of designing, selling and show-hopping of her own has passed, and the mission of her latest venture, D.I.Ypsi, states it best: "D.I.Ypsi was created out of a love for our community and the artists that work and live here.  We have worked very hard to create a show born out of a great collaboration with friends, fellow makers, and people who are passionate about establishing and nurturing a creative class here in Ypsilanti."
Handmade Detroit is a proud sponsor of D.I.Ypsi.
D.I.Ypsi runs 11 a.m. to 7 p.m. on Saturday, Dec. 11 at The Savoy in Ypsilanti. More info at dyipsi.com