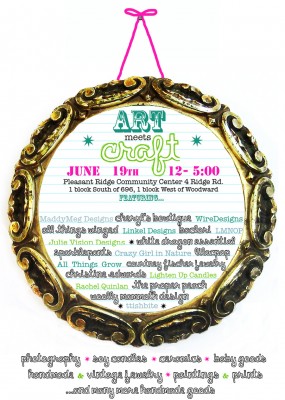 We all agree crafting can be a calming hobby, an inexpensive way to test market a business product or idea, and a grand way to spend time with other makers. Producing a crafting event is everything combined and definately takes the work, talent and organization to the next level!
We at HD are amazed at how the "Craft Movement" has really launched here in our mitten state. Formal shows and events seemed to have tripled in the last couple years! Coming up this Saturday, June 19th we'll be introduced to a debut show, "Art Meets Craft" by local maker Merry Stephenson of All Things Winged. I asked Merry a few questions about her new venture.
What's your background? Art or Craft, or both?
I've been an Interior Designer for 10 years so I love anything design related especially fabric, tile, and furniture. I have always had some kind of creative project going on around my house paintings, collage, jewelry, or candles. In the past few years I have found some time to get back into painting and it's been great. I have an Etsy shop, AllThingsWinged.etsy.com with my paintings and prints. My friend, Kim, and I also started another shop, Lighten Up Candles. We make hand poured soy candles in upcycled vintage glass containers. So … the short answer is both art and craft.
How did you find your talent?
I think if you enjoy being creative you tap into it at a young age. I would draw floor plans of my dream house as a kid, kinda nerdy I know.
Can you tell me what inspired you to produce a show?
I really love the art show environment and seeing how everyone reacts to your artwork is always such a great experience. Detroit has become this amazing place for artists and DIY crafters. I've met so many great local artists on etsy.com and at shows so I wanted to bring everyone together for a more intimate neighborhood show. I'm a busy body and thought maybe I could organize one, why not?
What kinds of items will we find at Art Meets Craft?
Photography, soy candles, ceramics, baby goods, handmade & vintage jewelry, and paintings & prints.
All Things Grow
All Things Winged
Baclori
Cheryl's Bowtique
Christine Edwards Photography
Courtney Fischer Jewelry
Crazy Girl in Nature
Julie Vision Designs
Lighten Up Candles
LilacPOP
Linkel Designs
LMNOPrint
MaddyMeg
Rachel Quinlan
Sparklepants
The Proper Peach
Ttishbite
White Dragon Essentials
WireDesigns
Woolly Mammoth Design
Art Meets Craft is a one-day event at Pleasant Ridge Community Center 4 Ridge Road (1 block West of Woodward, 1 block South of 696) from 12-5:00 p.m. this Saturday! A stones throw from the Detroit Zoo. See you there!