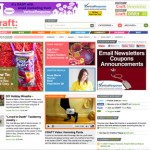 We were pretty sad cookies the day we received word that the print version of CRAFT was ending. But then we felt much better once we heard CRAFT's web site was living long and prospering. I'm happy to report I'm an official happy cookie once again after checking out CRAFT's revamped web site- hubbah, hubbah.
Lots of the magazine's features are back in full force, while some of our favorite blog features are standing tall. Need a gift suggestion this holiday season? Check out the CRAFT 2009 Holiday Gift Guide. Lots of crafter features, projects… you get the idea.
As many of us know, the way we consume information is definitely changing. It's always encouraging to see a favorite publication not only change with the times, but still deliver the same quality content we've come to love, whether it be online or off.