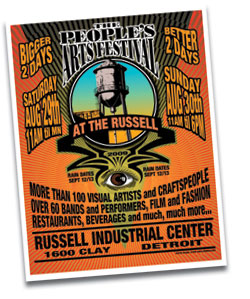 The People's Arts Festival is this weekend, and while Handmade Detroit will not have a booth there this weekend, you will certainly see a number of us in attendance there, and many of our HD peeps will have their crafty wares there for sale!
The PAF is expanded to two days for their third annual festival, and boasts over 100 local artists, 60 bands, and many restaurants to entertain you for the low low price of  TOTALLY FREE. The festival is from 11am to midnight on Saturday and 11am to 6pm on Sunday and in case of rain the festival will be postponed until September 12th and 13th.
For more information about the festival, it's artists and performers, and a map to get you there, check out the PAF website!