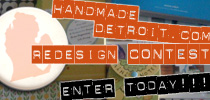 It happens. Every once in a while, I post about something and then promptly forget about it.
When we announced our Redesign Contest last month, we initially received a few entries — and then other projects overshadowed it's promotion and attention. So we're going to give it a bit more time — and you more time to win some of the awesome books and local art and craft.
The new deadline for our Redesign Contest is Monday, June 8.
To learn more about the contest and the ways to enter, check out the original post.