It's the middle of April. The Final Four buzz has ended, your taxes have been filed (hopefully) and the word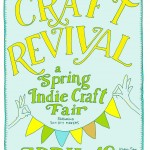 "cleaning" is slowly following "spring" on a regular basis from family members. So until we can officially say goodbye to snow, it's time to get crafty.
Join us this Saturday, April 18, from 10 a.m. to 5 p.m. inside Detroit's fantastic Magic Stick for Craft Revival, a spring indie craft fair to keep your seasonal spirits high and your crafty needs met until the next Detroit Urban Craft Fair later this year.
Thirty vendors will set up shop inside the Magic Stick. Well-known makers and first-time sellers make up this selling class, representing everything from hand-thrown pottery to silk-screened posters preferred by bands across the country. Looking for a ring made from locally reclaimed wood? We've got 'em. How about soap sets made with Michigan honey? We've got that, too.
Joining Handmade Detroit this year is the Detroit extension of Yelp.com, one of the web's most popular local review sites. Not only can shoppers find out how they can start supporting their favorite Detroit businesses on the site, but can even bedazzle a Yelp grocery tote, too.
Craft Revival
10 a.m. to 5 p.m.
Magic Stick, 4120 Woodward Ave. Detroit
Free admission, all ages
RSVP on our Facebook page.
Wondering who you'll meet there? Check out our great lineup!
Circus Circuit
Lish Magic