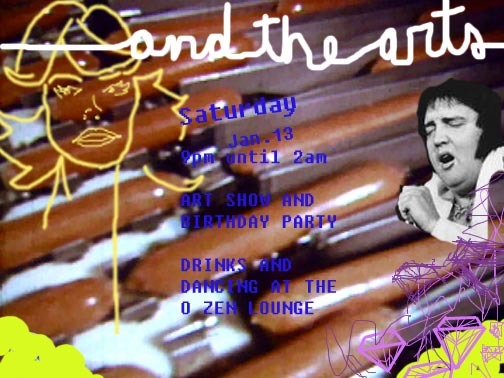 OK, so I just wrote this huge rant about this person copying and selling my idea, but in favor my better judgement, I am not going to post it. What I am going to post, and what I think is more appropriate for this blog, really, is a plug for this Saturday's Waiting Line Theory hosted "__ & the arts." We'll be there and we hope you will be, too.
"once again, the ridiculous world of , and the arts is upon us!
This Saturday, January 13th, the kids will be back at the O Zen Lounge (formally The Buddha Lounge) bringing their own special brand of goofiness and art and drunkenness and art and art for the world to enjoy.
as an added bonus, this time we will be having a super special birthday celebration for our dear leader Justin Marshall. not like we need another reason to get horribly out of control in the name of art, but there it is right in front of us.
if you've missed any of these parties in the past, we know you've since learned your lesson. prove us right (because we are) and show your face this saturday.
. . .
21633 W. 8 Mile
Detroit
313-535-GONG"