Sublime Stitching
By Jenny Hart
224 pages
Chronicle Books, October 2006
Paperback, $19.95
I'm blaming Sublime Stitching for my new-found addition to embroidery. Curses!
In all honesty, I should be thanking Jenny Hart. It's been a long time since I've embroidered anything, and her new book, due out in stores in October, got me back into stitching love.
When I first heard about the book, I wasn't sure what would fill all those pages. Tons of old patterns? Techniques passed down from the days of colonial Williamsburg? To my delighted surprise, it's a mix of great techniques and adorable patterns.
Hart's conversational tone makes for a great read in this how-to book. This quote from her introduction tends to sum it up perfectly, and is one of my favorite hart thoughts:
"Just one thing: read this book from front to back at least once. I know you're eager to get started, but don't skip around and jump to the back."
This is so true. To truly appreciate Hart's book, take the time to read the stitching suggestions before cutting out your favorite pattern designs. I was tempted to do this at first, but after reading Hart's suggestion, I made sure to read every page carefully. And boy, did it pay off.
The stitches you see on cute lapels aren't really that hard if you take the time to practice them. I made my own practice piece and was pretty pleased with the results. Take a look: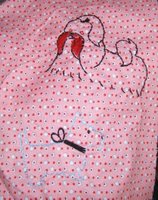 There are points of the book that I really appreciate more than the normal fare found in DIY manuals, more than the "check out eBay or thrift store" mentality of help. Hart gives you tips on how to best transfer her patterns to cotton-based garments (they work best) and even how to organize your floss. You know, the embroidery kind.
The patterns included with the book are great. You've got cats, dogs, lemons… the works. There's even a handy pocket in front to keep them all organized after you've cut them out and want to use them again.
Hart has so many paterns available on her web site, but her new book really gets you started right away. If you've ever been curious about monogramming that cardigan of yours, Sublime Stitching will perk up not only your wardrobe, but your sewing skills, too.

AND IF THAT WEREN'T ENOUGH
For a quick fix, try Hart's Stitch-it! kit. You'll get everything you'll need to create a project right away: floss, embroidery hoop, patterns and even a needle. It's a mini version of the book to hold you over.