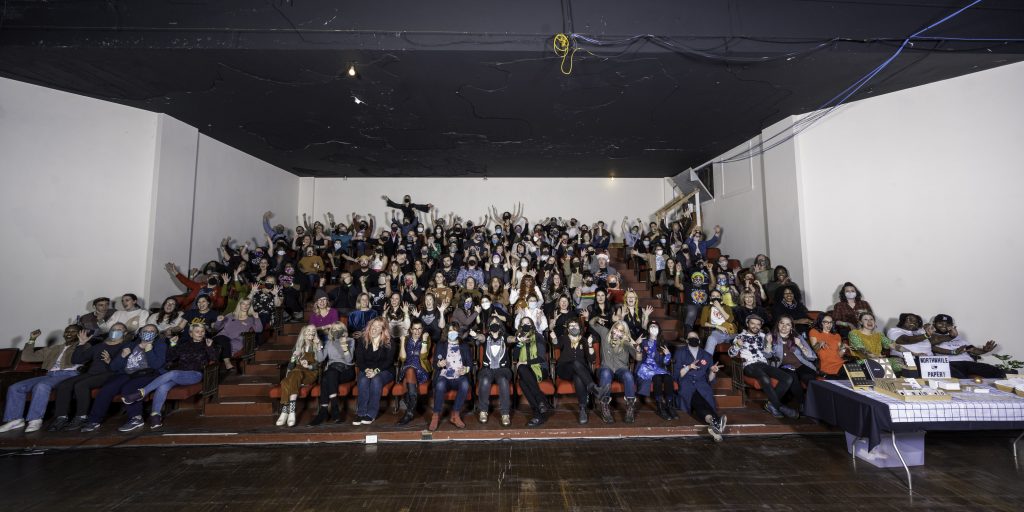 Just hours ago, the clatter of wheelie carts and collapsing tables signaled the close of the 16th annual Detroit Urban Craft Fair.
Over a 3 day stretch thousands of people came to the Masonic Temple Drill Hall for a Craft Show. Moving through that historic space, millions of ornate details literally everywhere in the elevators, the door frames, the banisters and staircases. A time when the most minor details are celebrated. Materials chosen with intention and knowledge. Construction and design that is overwhelming to consider. That's a pretty iconic locale for a show daring to highlight modern craftspeople! But that's exactly what's to be found; turning that corner into the Drill Hall and taking in the view, sounds and energy unique to Detroit Urban Craft Fair, those very talents and similar craftspeople were waiting to greet each guest.
Woodworkers and printers, chocolatiers and knitters. Glassmakers and potters, painters, beadworkers, alchemists. Paper crafters, bath and body artists, jewelry designers and even rug-tufters stood ready with their offerings.
Each space had 'a look', but not unlike those bustling hallways and elevators, stepping closer to really see the detail and care to these creations is a marvel time and again.
We want to thank you guests that took a chance with us, complied with the Covid-19 cautions we felt best about implementing to keep each vendor, their helpers, our team and fellow guests sane in for most of us, the largest in-door gathering we've dared in nearly two years… being so curious and kind and so generous with your shopping and selections, every artist on site I know would want to exclaim a united THANK YOU with us.
To the staff and crew at the Masonic Temple, particularly Jan, Ross, Melanie and Rich who like us, plan and organize, in meetings and on paper, with 'muscle memory' (from two years ago) the whole year through and honestly hope for the very best when the event finally begins–who go above and beyond each and every time to make sure we're ready, we're supported and anything going awry is managed efficiently and with a joke or a smile. THANK YOU
To our sponsors who contributed money and time, ideas and supplies, gifts for guests, promoted this show and admittedly help make it possible. Rocket One-stop Printing, The Rust Belt Market, ESP, Hip In Detroit, Detroit GT, POST, Arsenal Handicraft, Sloe Gin Fizz, No Issue, Yelp. THANK YOU
To our long time DJ Dave Lawson for sharing your time and incredible record collection with everyone, Doug Coombe for your incredible eye and skill photographing DUCF each year, Katie at AR Workshop for your sponsorship, envisioning and running a kids area for our younger attendees, to Sponsors Gooseneck Coffee for caffeinating everyone so professionally and deliciously and for Delectabowl for keeping our vendors fed with a creative menu. To our Friday nighters Jessica Cool Critter's large scale critter build, 🙂 Hazel and Dolly Rachel's lettering station, Worthwhile Paper's pop up. THANK YOU
To WDET for their support, and to FOX2 Detroit for valuing our event and scheduling two different features in one of the worse weeks of local news in recent memory, we know how many guests only hear about our event from your broadcasts and we can't thank you enough. THANK YOU
To Hip In Detroit Sadie, to Amy, Anna, Justin, Liz, Dan Nixon for our incredible website work, Courtney's street-teaming efforts, Jodi Lynn's Pins, JKM Jen's candles, Foxy Hipster Amy's vendor gift our 'sweet 16' Keychains, to Cronkite, Shayla and Jeffery who helped make this year it's own, the mighty craft-team at doors, volunteers on the floors, for your ideas, time and literal sweat equity. Know this event is not only functional but special because of each of you. Special thanks to Chris of The Silent Giants for being our poster artist this year, and congratulations to Alyssa Space, founder of For Her Cosmetics for winning Best in Show and securing an automatic 'in' at DUCF17 !
And to the vendors. Thank you for your sharing your work and making this event what it is. You're each astounding and must be celebrated. THANK YOU!
Much appreciation to our families, to our kids Lucy Pierce, Roy & Della Nixon for their love and wisdom, and to everyone, best wishes for the holiday season and year ahead,
Carey and Bethany