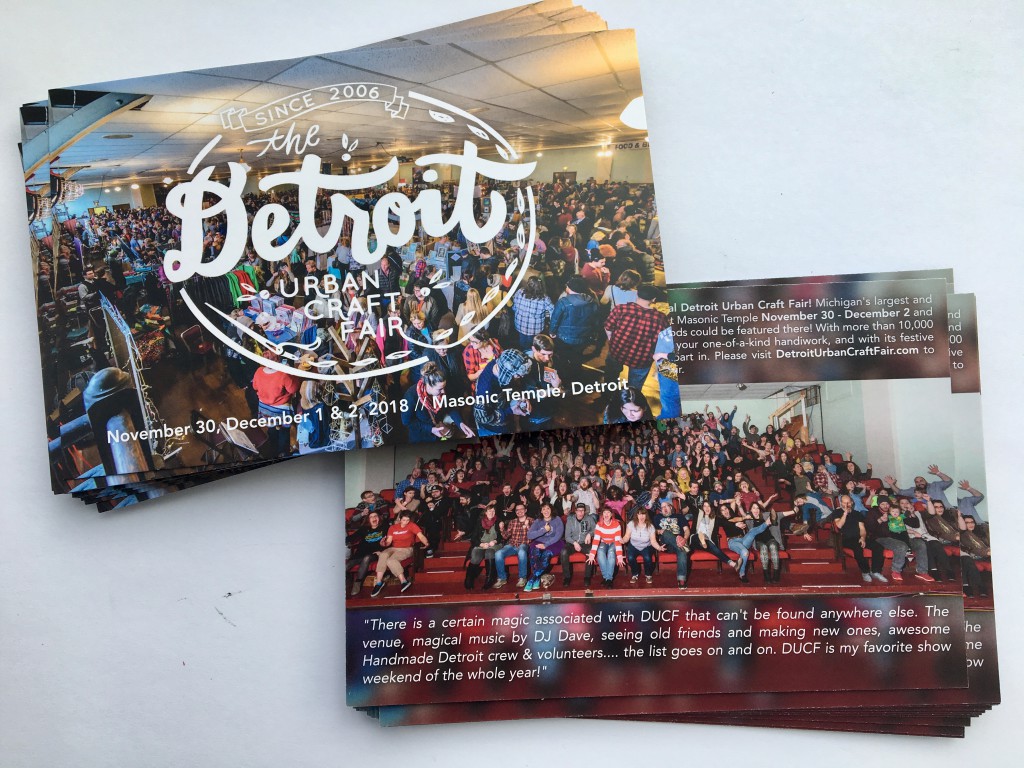 The first few months of the year are the slow season for my business, and for Handmade Detroit too. In January we get to rest & recharge our creativity a bit after the busy season, and then in February and March we focus on the plans for 2018! I'm sure a lot of you are doing the same, right?
Part of our planning for 2018 is deciding how to get the word out to everyone when our applications open for Detroit Urban Craft Fair. Our apps don't open until mid-July, but lots of crafters and makers are deciding now what shows they want to apply for in 2018 now. We've had a number of people ask when our dates are for 2018 already, so for the first time ever we've made fliers to just help people plan to apply later in the year.
For projects like this, we turn to our friends at Rocket. Rocket prints all of our posters and fliers for Detroit Urban Craft Fair, and have sponsored DUCF for years now. Their turnaround on work is very fast, and we love their close location in downtown Royal Oak for pickup.
After Dan designed our flier, we sent the files to Rocket and whoa, they had them ready to pick up 3 days later. Perfect timing for Midwest Craft Con!
If you are looking for materials for your own shameless self promotion – business cards, fliers, stickers, etc. we highly recommend Rocket. If you want an estimate, it's easy to figure out your price on their website too.
Oh, and if you are trying to read that print on the picture – here's the deets! Detroit Urban Craft Fair will be November 30, December 1 & 2, 2018 at the Masonic Temple in Detroit. Applications will open in mid-July! Want to be notified the day our applications are live? Sign up for our email list.