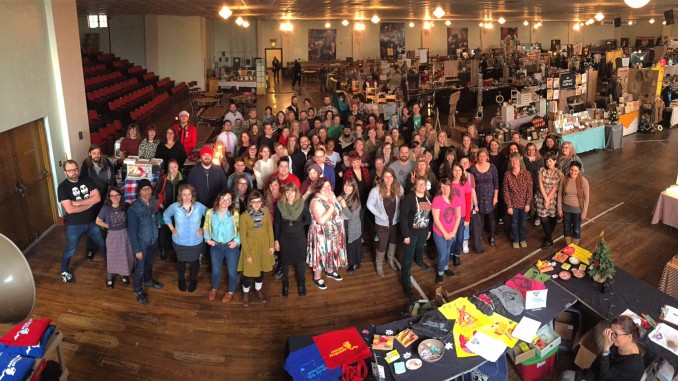 Craft Fair Hangover. I think everyone who was involved in this year's Detroit Urban Craft Fair has it. 11 months of intense planning brought our most successful fair yet to the Masonic Temple, with over 10,500 shoppers over the 3-day event!
Carey, Bethany and I didn't do it alone though.  Our local community that we have helped to build over the last ten years played a huge part in this year's success.
Major thanks goes to the people who made the weekend so special:
Designing our incredible poster this year was Mark Moreno of The Mark80
Melissa Detloff from Hooray Forever made our lovely journal vendor gifts
humble candy company provided fresh, tasty, and organic cotton candy for our Friday night party
Lisa Waud from the incredible Pot & Box showed us how to make beautiful corsages
The Detroit staple Buddy's Pizza filled us up on delicious Detroit-style pizza on Friday night
Craft-a-Way Camp led a painted bead necklace make-n-take
Detroit Party Marching Band took the party to the next level at our Friday party. Whoa.
Chris Gorski of Detroit GT  made our fun coloring page that was full of fun Easter eggs to find
Doug Coombe captured the atmosphere of the fair perfectly in pictures
Our favorite DJ Dave Lawson played the soundtrack of the fair and put everyone in a festive, party mood
The Masonic Temple Detroit provided excellent service all weekend, as well as a venue rich in Detroit history
Volunteers worked all weekend for us, from the door and merch table, to running food, to watching vendor tables, we love you and couldn't do the fair without you!
Our shoppers came out in droves this past weekend, and continually help support all our artists.  This year you upped your game and helped us to raise $2,700 at our Friday night party for local charity Living Arts Detroit!
Stephanie Tardy Duimstra and Lish Dorset are long-time friends that helped us start this crazy, magical event 10 years ago.  Your hard work over the years continues to be woven into the fabric of the fair.
We heard a lot of people tell us lately that the creative scene in Southeast Michigan is different, and we couldn't agree more.  We are a community of creatives that truly care for one another, and the three of us feel incredibly lucky to be a part of it. I know the love and good feeling from last weekend was felt by many, and it continues as we lead into the holidays.  Thanks to all who were involved, and we will see you all next December!
XOXO,
Amy, Bethany, Carey, Handmade Detroit