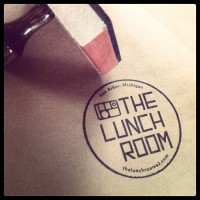 They're an independent business with an inspiring story. They make everything themselves, with a lot of local love. And their food is delicious! We're excited to welcome The Lunch Room to the 2015 Detroit Urban Craft Fair. Like our fair's vendors, this vegan restaurant specializes in cozy classics with a modern twist. And on Saturday, December 5, and Sunday, December 6, from 11:00 am to 5:00 pm, they'll bring burritos, salads, cookies, and more to Detroit's Masonic Temple. So while you're enjoying a day of handcrafted goods, you can pause for a helping of handcrafted food!
Loaded Nachos. Buffalo Wrap. Hearty Chili. These are just a few of the tasty dishes you'll find on this weekend's menu. It's those familiar, robust flavors we all find so satisfying. And The Lunch Room takes our old favorites to new heights, making all their food from scratch, and using plenty of local and organic produce. Lunch Room founders Phillis Engelbert and Joel Panozzo put so much care into their plant-based comfort food. That's why their Ann Arbor restaurant has brought in so many loyal customers, rave reviews, and prestigious awards.

As we celebrate the 10th anniversary of Michigan's largest indie craft fair, we look back at Handmade Detroit's earliest days, hosting smaller shows in homes and businesses. The Lunch Room followed a similar path, moving from dinner parties with friends, to pop-up events in stores. From there, they opened an award-winning food cart, before moving into an adorable space in Ann Arbor's historic Kerrytown neighborhood. Their Restaurant and Bar has become a beloved gathering place, and this year, a Bakery and Cafe was added at a second location! It's exactly the kind of DIY success story that we strive to celebrate and support.
People come to the table from a lot of different angles. But with a vegan menu, and gluten free options, The Lunch Room offers food that everyone can enjoy together. So when you meet your friends and family at the craft fair, you can all share a meal. Vegan restaurants are often talked about as if they're missing something. But in fact, The Lunch Room offers something extra. Not only will you find unique gifts and nourishing food at this year's Detroit Urban Craft Fair. You'll find a renewed connection with the people around you. And inspiration for a creative project of your own.
Photos courtesy of The Lunch Room.