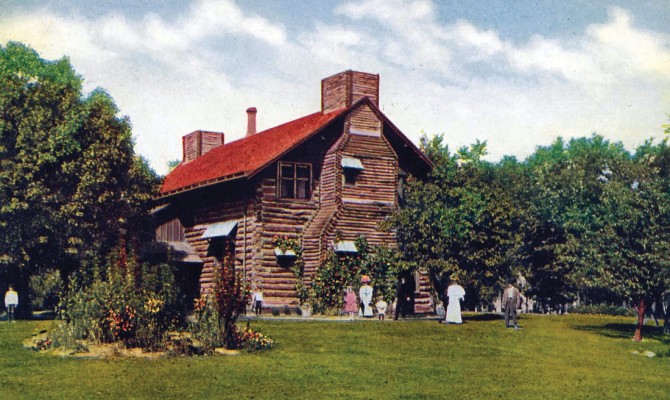 Early this summer I took my daughter to an arts and crafts show hosted by The People for Palmer Park on the PP grounds, which is home to Detroit's oldest and last-standing Log Cabin. The cabin only opens once, maybe twice a year for an ice cream social and on this particular day we were able to walk inside. Behind a table I spot Andrea Sevonty of Sevonty Restoration, LLC. She runs an historic window and stained glass restoration workshop in the city of Detroit and has, in partnership with PfPP and the City of Detroit, taken on the challenge of restoring the many stained glass windows throughout the cabin.
I was so overjoyed in speaking with Andrea about this undertaking, we stained glass people have lots to talk about when we cross paths after all! She was set up and offering "by donation" squares of glass that she would etch the contributors names and then incorporate into her work,  so I handed over the cash I had and bought a square for daughter and I.
I had the opportunity to contribute a bit more Sunday afternoon by attending a garden party and fundraiser for the Log Cabin restoration on the grounds of the historic Dorothy Turkel Frank Lloyd Wright home, nestled into the 7 mile Palmer Woods area and neighbor to Palmer Park itself. Being a LONG time stained glass and mid-century modern freako I was thrilled to learn not only were we able to see the lush gardens and enjoy the patio, but venture INSIDE the authentically restored home of current owners Dale & Norm. Several hundred guests strolled in and around their great room, kitchen, an office, a den, a main floor restroom and the second story landing with incredible overlooks inside and out.
Here's some photos I took and another board member friend:
The fundraiser was delightful as well. Over 60 items were generously donated from businesses and neighbors, such as the DSO, Detroit Bikes and Wheelhouse Bike Tours, Meadowbrook, restaurants and stores including Pinwheel Bakery, Shine on Yoga and two impressive displays from friends at Rust Belt Market. I was outbid on all of my choices, sad for me but great for the cause!
Be sure to visit the website of People for Palmer Park to learn more about the stained glass restoration project, with even a small donation we can help secure a beautiful piece of handiwork in our city.