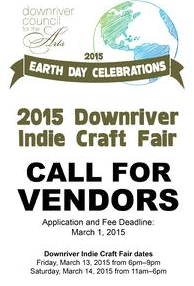 Having craft fair withdrawal? The Downriver Council for the Arts is now looking for vendors for their upcoming DICF, and the vendor fee for the 2 day fair is just $35.
From our friends at the DCA:
As part of our 2015 Earth Day Celebrations, the Downriver Council for the Arts (DCA) is currently accepting vendors for our second annual Downriver Indie Craft Fair, featuring the wares of independent crafters, artists and DIY'ers. 2014 was a huge success for vendors and guests, as well as the DCA. We hope you'll be a part of this epic event in 2015! A $2 public admission will charged at the door, with the proceeds helping to send a child to summer art camp at the Downriver Council for the Arts this summer. Please be advised that we have a limited number of spaces available, so get your applications in early. Deadline for applications is March 1, 2015. We are sorry, but we can not accept any late entries!
The DICF is Friday, March 13, 2015 from 6pm–9pm and Saturday, March 14, 2015 from 11am–6pm. Applications are available to download on the DCA website.
*This event is not affiliated with Handmade Detroit, we just thought we'd share it you. Please contact the folks in charge via the links above with any questions you may have.