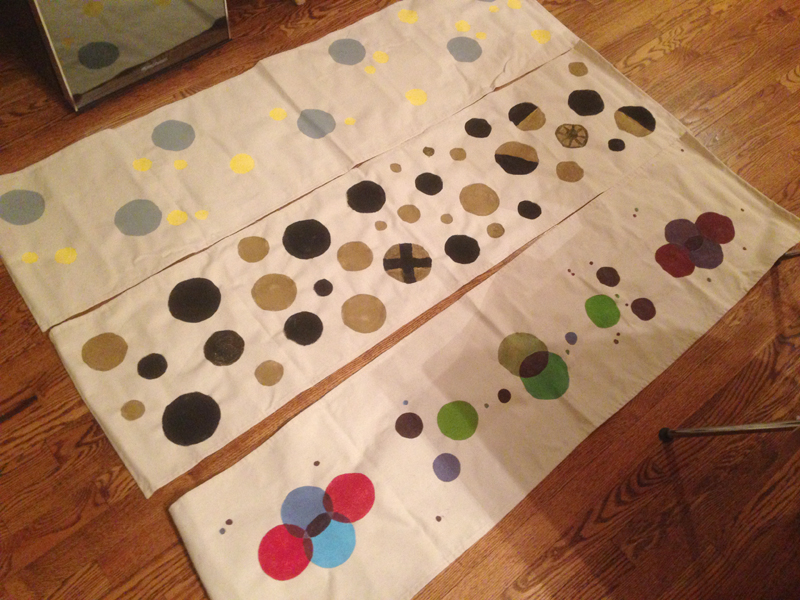 Did you know that March is National Craft Month? We love celebrating and crafting through the month while we (hopefully) watch the temperatures rise and the snow melt. When we were asked by Meijer if we would like to create a DIY project using only craft supplies from our local Meijer for National Craft Month and we enthusiastically said yes – times three!
Carey, Lish and I all wanted to craft-along, so we shopped the crafting aisles at Meijer and each got the same supplies for our project. We worked one evening with each other (and a little ice cream cake), and a bit the next afternoon on our own. It's amazing how different each of our projects turned out!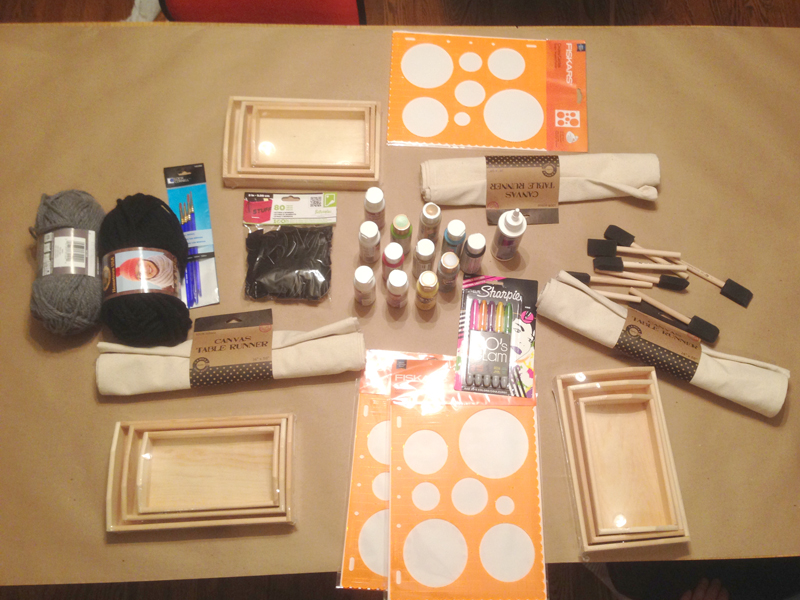 Each of us started with a canvas table runner and a set of 3 nesting wooden trays to decorate and make our own, using a circle shape template by Fiskars, some stick-on felt letters, and a big variety of paint, brushes and Sharpies to choose from. We even got a couple skeins of yarn to help us tie and store the runners when we aren't using them.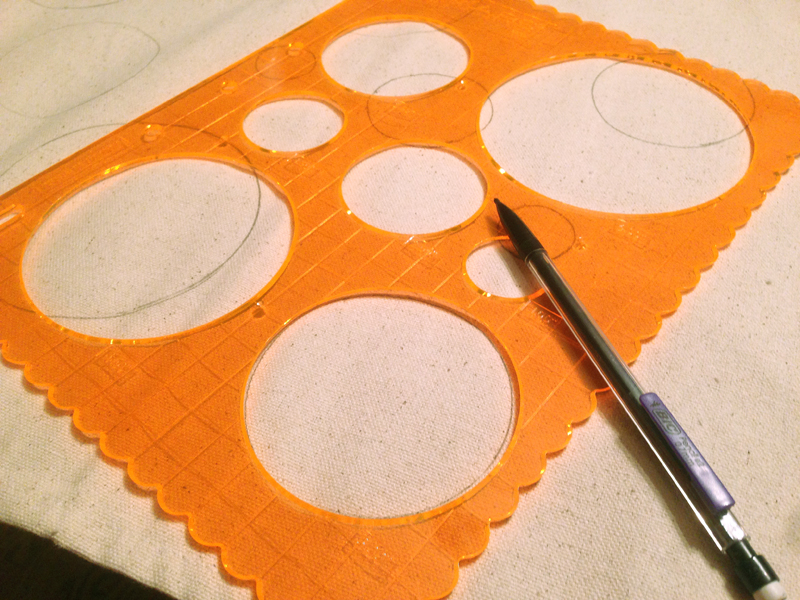 We started first on our runners, each using our circle templates to draw our design in pencil first.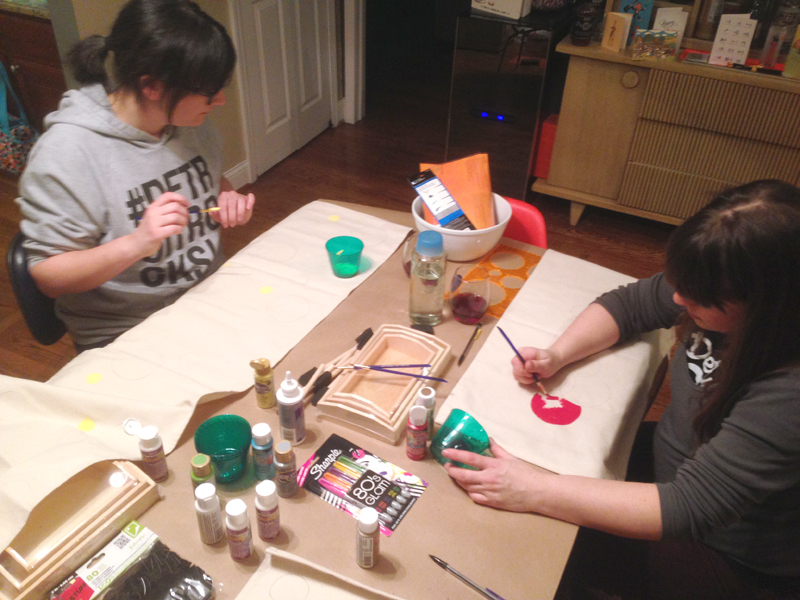 Then it was time to paint! We all had very different color schemes, and there was paint to match each of our homes and styles. The canvas runners were nice and thick and took the paint very well, without any bleeding on the other side (so you could also make a runner reversible by painting a whole different design on the other side).
While our runners dried, we began to work on our trays, then finished up at each at our homes the next day.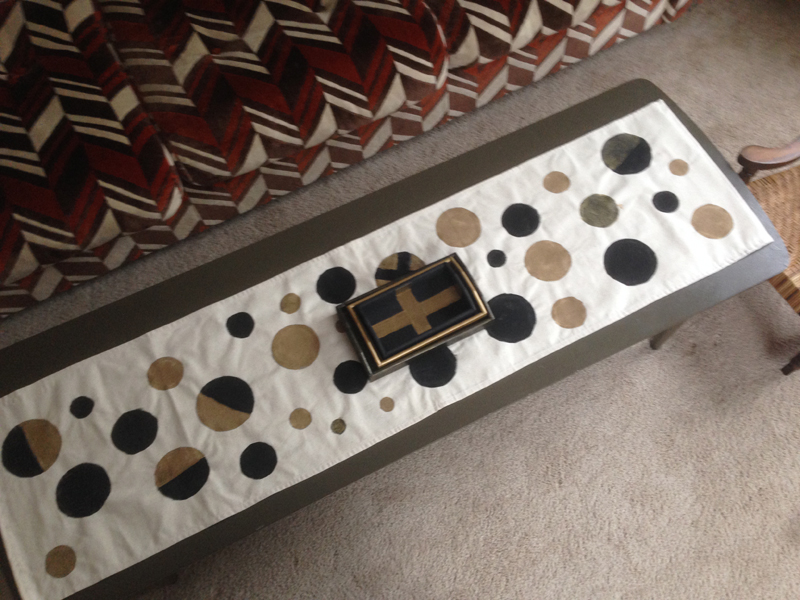 And here's our big reveal! I used metallic gold, black, and gold glitter and added free-form crosses and half moons on occasion, then painted the trays to match. I am using mine on our coffee table, and I totally love the set!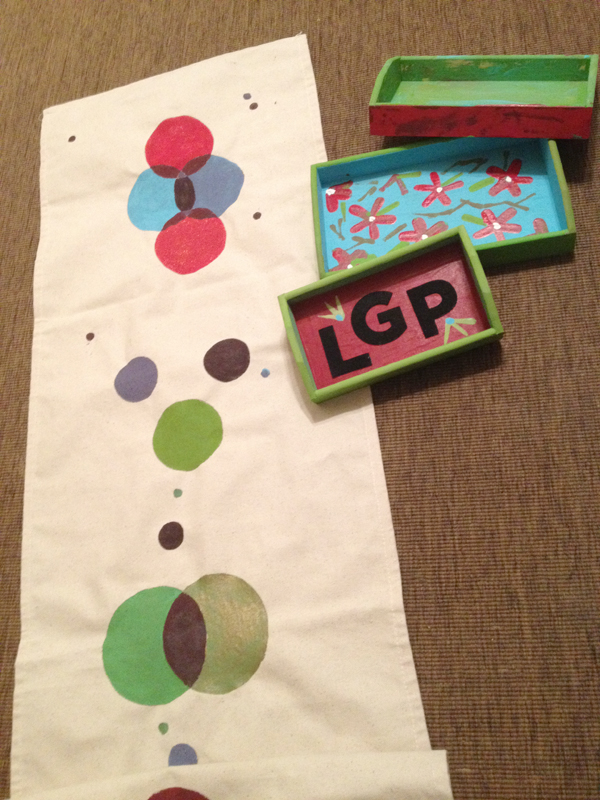 Carey says "I chose to layer the circle stencils to create little color wheel type patterns on my runner. But I wasn't thrilled with my first box i painted so I worked on it again with my daughter. Much happier with the second try!"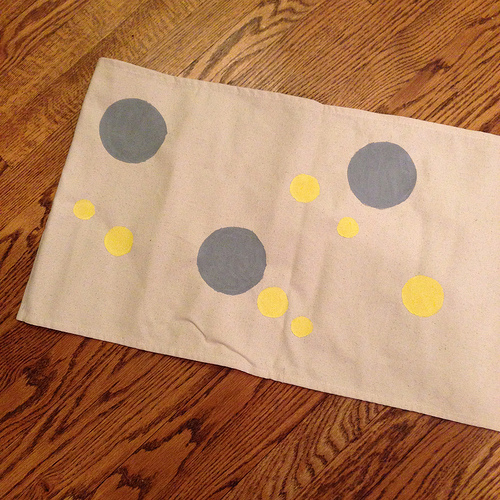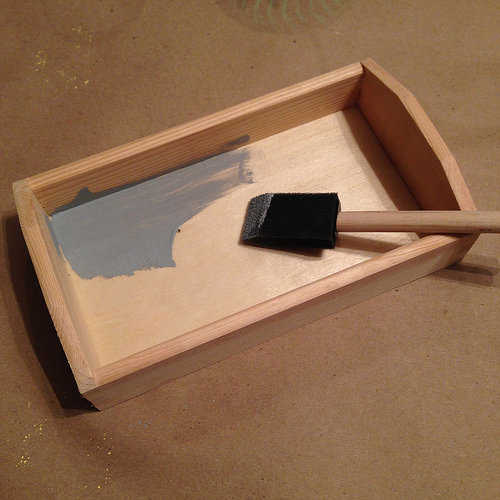 From Lish: "I went with spring-ready yellow and slate polka dots, in a variety of sizes, on my runner. I applied a simple coat of paint with my three trays to match, complete with a Mod Podge sealant finish. I really like how the yellow and slate worked together; it's a color trend I keep seeing for new babies, which is great! The Americana acrylic craft paints were really wonderful to work with. I added a bit of the fabric medium to my paints and it really helped make the paints extra smooth on the stiff canvas."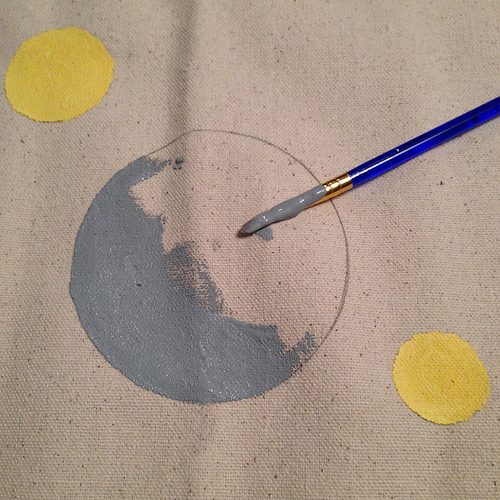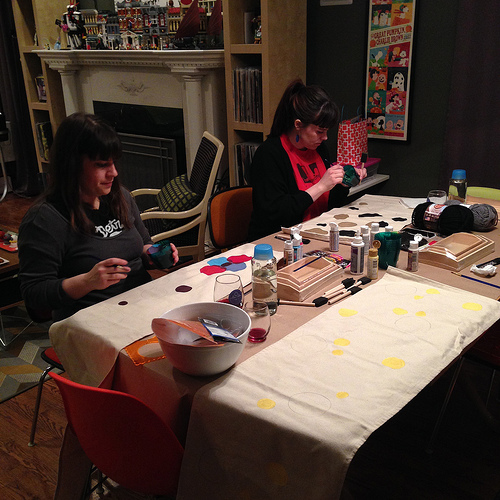 "When you've had a rough week, I highly recommend painting polka dots on ANYTHING. I loved how relaxing it was, especially when you have a few friends with you doing the very same thing!"
Thanks to Meijer for asking us to participate in this crafting challenge. We had a lot of fun shopping and crafting! If you are looking to do some crafting through National Craft Month too, use the mPerks digital coupon code "c4tb8d" to receive 20% off your craft purchase at Meijer (valid 3/1-4/1).
This is a sponsored post. We received a gift card to pay for our craft supplies purchased at Meijer; no other compensation was given. All opinions are ours.