Yesterday was just another day, nothing flashy or exciting. It was pretty clear my kid was too wound up to take a nap. She read her picture books in her bed and was soon up and moving around the house. With a busy weekend ahead of me I decided running a few errands with her instead of a rest would have to do. The temp was down and the bright blue sky held giant white billowy clouds. A bike ride was in order!
My willing travel companion was snapped into her bike seat in no time, and off we rode. We went to a consignment/resale shop in town and on the way out, I was daydreaming through my turn and was peddling along in the opposite direction of home. Only a few moments later we rode up toward a rental property being cleaned out. Standing at the curb were a few garbage cans, a wonky lawn chair, some kind of fan that was broken and a few giant pieces of foam core. Looking closer at the one, the construction paper pieces that poked out were already all too familiar. We skidded to a stop at the pile and I pulled the pieces apart and there staring at me was giant sign that I made for Detroit Urban Craft Fair 2007. The man on the porch yelled down, asking if I wanted any stuffed animals. Bewildered, I said, "no thanks", and snapped a picture of my discovery.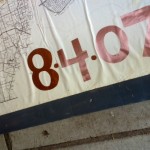 An hour later we were back in the car, rescuing the signage. Sure, it's just some paper and shapes glued together but can I get an amen on how WEIRD that is? Living in a dusty garage for 6 years and within the 10 minutes they were put out to trash I happened along? It was a very defined needle in the haystack moment.
In a few weeks applications will be open for the 8th annual Detroit Urban Craft Fair. And there will be at least two signs welcoming us this year that have a little extra history (and spider webs) about them!