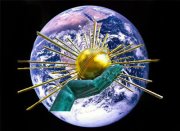 Global Detroit Human is a new shop opening soon in Livonia, Michigan, selling a curated collection of clothing, jewelry, and music from designers and artists in Metro Detroit. Sunday they are hosting a Pre-Launch party to show a taste of what is to come and the talents of their designers, DJs and other local businesses. Check it out at 33750 Plymouth Rd, Livonia MI 48150 from 3 p.m. – 8 p.m. for just $10.
From their Facebook event page:
Global Detroit Human & D.o.i.t.-313 Magazine invite all Fabulous Fashionisti, hip Detroiters, Community Lovers, and Cool Humans to celebrate the upcoming planet landing of a new Detroit design shop launching soon on the West Side of Metro D.
Global Detroit Human will contain THE BEST of Detroit designed clothing, jewelry, music, and human accessories in the nation, nay, the world!


Body friendly, sizes Svelte to Curvy, up to size 24!!!
Our shop will be bare for the party because we just moved in! But hey, lets celebrate anyway! Before we start hustling like a Detroiter to bring a gorgeous store and fantastic website for us to *bring the D to the planet*, we will hold a fun photoshoot of all our clothes, and invite YOU to celebrate with us. Get behind the scenes and see the fabulous designer lines and meet the designers!
• Model Hair & Makeup demo by the award winning Salon Domani of West Bloomfield:
Located in the heart of West Bloomfield, Salon Domani is a modern beauty salon offering a variety of hairstyling, make-up and beauty services. At Salon Domani, we are committed to making every visit a rejuvenating one. Our hairstylists and beauty specialists are ready to indulge you!
• See a fashion photoshoot in ACTION: Gorgeous metro Detroiters showing off our beautiful clothes for the camera, with featured model: Terlicia Lynn Ryans
• Poetry Reading by jewelry designer and international Poet Olga Klekner, of Springfed Arts, Metro Detroit Writers
• Master of sounds, Detroit DJ – Joe Vargas (Tour Detroit/Blank Artist)
Joe Vargas Has been A DJ in the Detroit Underground Electronic Music Scene for over 5 years, and is one of the founding members of Tour Detroit. He has opened up for artist Like Todd Osborne (Ghosly International), Dan Balis of Escort, The Chap (Ghostly/ Lo Recordings), Jared Wilson (Blank Artist/Skurge), and Juan Maclean (DFA).
2011 marked Joe's debut in the producer role, appearing on Blank Artist 2011 winter comp, and is currently working on his first EP for the same label
• Wine selected by Personal & Event Wine Consultant, Dan Haremski, Head Bar Manager of ZIN in Plymouth
Dan Harmeski is a veteran Bartender, Bar Manager and consultant with decades of experience managing million dollar upscale events and trendy bars around LA. After a few years working the scene in Chicago, he was invited back to his home in Metro D to become Head Bar Manager at the recently opened ZIN wine bar in Plymouth. Dan is currently completing his sommelier license, and is available for affordable consulting to help design the very best in spirits for your personal collection, party or event.
• Picture exhibit by Photographer Jenna Dosch, of Jennafer Photography
• Food, of course!
Tickets cost $10 at the door. Come out for a relaxed evening of awesomeness and meet great people. All event participants will have the opportunity to see the clothes up close, and order before the shop opens! Be a tribal trend setter!
For more info and to like Global Detroit Human on Facebook, check out the event page here.