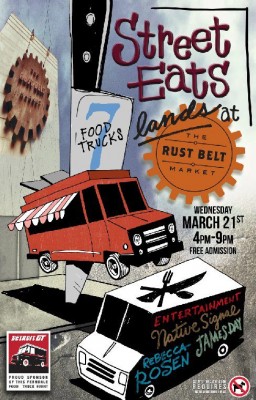 Being a newish Mom I'm constantly encountered with where to take my daughter to eat! A sit down place with a two year old? Ugh… More often we end up at the market finding something to take home instead of braving a restaurant.
Beep beep – here comes the food trucks! Aaaah, a Mothers rescue! And so much more. These restaurants on wheels are part of the pop up craze – staking a place at local events, street corners and neighborhoods with themes for their menus ranging from hot dogs, tacos, something for health nuts, and good ol' comfort food.
Summer has sprung in Michigan suddenly and I can't think of a better event to enjoy the weather than visiting Rust Belt Market this Wednesday, March 21st for Metro Detroit Street Eats!
Loads of restaurants on wheels will pack the Withington Parking Lot behind the market, the event will feature Ferndale's own Treat Dreams as well as other mobile eateries like Jacques Tacos and Chow Catering (who wowed our DUCF audiences with their delicious foods).
Chris Best, owner of Rust Belt Market sees it as a fun, new thing and proof of Michiganders getting creative in this economy. "If you lose your job or your spouse loses their job you are forced to figure something out.  What better time to dust off that old restaurant dream and flex your mad skills as a chef. "
The event runs from 4-9pm with seating, live entertainment and cool stuff to see and purchase at Rust Belt. I can't wait to sit on a curb with my little gal and split a Mac & Cheese!