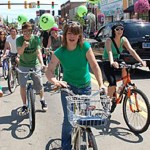 The month of August in Ferndale is a busy one!  This stretch of Woodward Avenue hosts a big part of that major automotive spectacle a few weeks in, but coming up this Saturday, August 13th there's a cleaner, GREENer day of fun planned.
With the tag line, "Be a Solution to Stop Pollution", you can join in the fun of celebrating with The Sierra Club's 7th annual Green Cruise!
The event includes organized bike rides, a parade, crafts for kids and activities, an educational area, free healthy food, green sponsor booths and lots more.
Read all the info on their Facebook page regarding their organization and activities. I can tell you first hand it's a super fun event, Lish and I hosted a kid craft last year,  I rode a few years back in the parade!