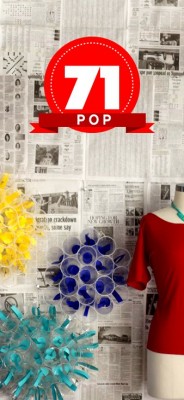 I'm geeked for the grand opening celebration of 71 POP this Saturday, July 30 from 2 p.m. to 5 p.m.
What is 71 POP? From the site: "71 will be Midtown Detroit's first ever collaborative pop-up retail solely dedicated to emerging designers. This "pop-up shop with a twist" will allow emerging designers to work or create, while 71 POP sells their wares for a limited time — handling the nuts and bolts of running a business, from marketing to online sales to ringing up items at the cash register."
Applications for the shop are set to go live on July 30th. The shop will host 3-4 artists at a time, selected by an advisory board. (Full disclosure, I am a member of the board.)
The first four artists to show in 71 POP are: Margarita Barry, Bohomodern; Mike Han, Street Culture Mash; Emily Thornhill, HOMESLICE and Phillip Lauri, DETROIT LIVES!
71 POP is located at 71 Garfield Street in Detroit in the 71 Garfield Artists Lofts. You can RSVP for the grand opening event on Facebook.