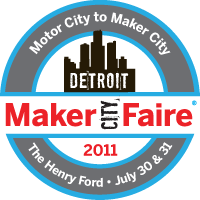 Maker Faire Detroit is almost upon us, and with it Handmade Detroit's Craft Faire!  Here is the list of the vendors we are proud to have showing this year.
The 2011 Craft Faire Vendors are:
Janet Barrall
We will start highlighting the wonderful wares these talented artists make starting next week!
Event details:
Craft Faire, part of Maker Faire Detroit
July 30 and 31
The Henry Ford, Dearborn
For tickets and information, click here.