There's a lot of activity happening at the north west corner of Nine Mile and Woodward avenue in Ferndale. New crafy entrepreneurs Chris and Tiffany Best have a vision for this spot, and we'll all see it come to life when The Rust Belt Market opens to the public May 7-8.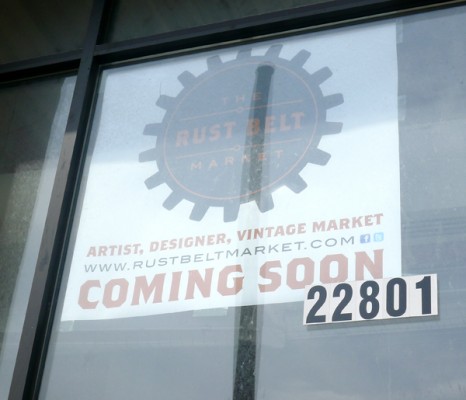 A window teaser!

This hardworking couple have searched all over the area spreading the word to local artists, crafters and DIY makers that they're plan is a simple one: if you make good work and need a place to sell it, come here. Their web site is sharp and direct and so it their plan. Vendors are "buying in" for days or weekends, months or for a permanent spot. Rust Belt Market will follow (for starters) the tradition of the flea market way, buy selling exclusively on  Saturdays and Sundays, keeping it a special event for the weekends.
Handmade Detroit was invited for a super special pre-opening walk through to meet the Bests and see the space. The former Old Navy building is going to be transformed and in doing so they're repurposing left behind shelving and materials for their new tenants!
A few days ago I saw for myself their handcrafted signage being hoisted up and installed as I crossed Woodward Avenue with my daughter in her stroller. Hopefully all of downtown Ferndale can benefit from having a new "anchor" store where a vacant one stood for so long. We're all rooting for you two and can't wait to see for ourselves the goods our local makers has to offer.
Thanks to the Rust Belt team (and Bethany Nixon) for the photos for this post.
For much more information on Chris and Tiffany and Rust Belt Market you can visit them on Facebook or at their web site.