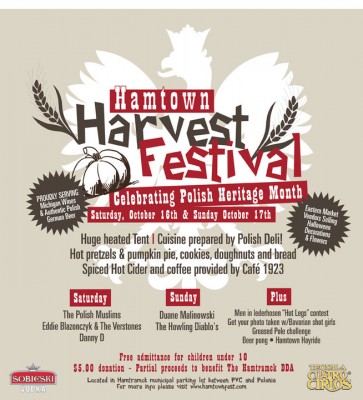 If you're looking to make your Saturday super exciting tomorrow, and aren't swamped working on your Halloween costume, you've got a lot of options. From our crafting party at Goods Detroit to an appearance from i3 Detroit's Twinkie car at the Thunderdrome race.
Kathleen from the Hamtown Harvest Festival checked in with us to share some information on this new community event.
Is this the first year for the event? If not, how long has it been going on?
This is the first annual Hamtown Harvest Fest.

What's new and exciting this year?
We have a great entertainment line up with Eddie Blazonczyk & the Versatones, Duane Malinowski & his Orchestra, Danny D, The Polish Muslims, & The Howling Diablos, DJ BLADE
Oktoberfest Beer Hall with Michigan, German & Polish Brews & Michigan Wines
Danny D's 'Hot Legs' contest for all Men in Lederhosen
Watch the Football Game projected on the side of Polonia Restaurant!! Beer Pong Tournament.
Hamtramck's Finest TUG OF WAR – Firemen v.s Police. (Sunday at 1pm)
Authentic German & Polish Food
Hot Pretzels, Bavarian Nuts, Carmel Apples,
Pumpkin Pies, paczki, cider & donuts from New PALACE Bakery
Take your photo with Mr. Paczki!!
Where's the best place online to get more details? (Web site, Facebook event invite, etc.)
hamtownfest.com or on Facebook at Hamtown Harvest Fest.
What's the main reason to come and check out the event?
If you didn't get a chance to make it to the Labor Day Festival, this is the last chance of the year to celebrate Hamtown-style. Like they say, there ain't no party like a Hamtown party!
Anything else fun and exciting we should know?
93.1 Doug FM will be there from 5-7 on Sat Oct 16th
It's a family-friendly event and the cost is just $5 for adults, $2 for kids and free for anyone 10 and under. All children must be accompanied by an adult.