This Saturday head over to Flint for the bi-annual Craft Market, presented by Flint Handmade. Over 60 unique craft vendors will be selling their wares in four different locations in the heart of downtown!
Locations: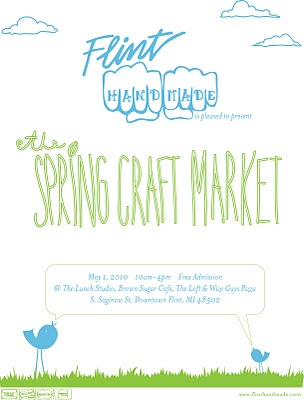 The Lunch Studio
Brown Sugar Cafe
Wize Guys Pizza
The Loft
Rowe
List of vendors:
Asylum St. Press/Vile Comics
Basement Art Creations
Chicaloo Photography & More
Chickengirl Design
Sarah Reed Photography
Sloe Gin Fizz
CeeGee Soap Company
Organic Skin Care
Sun River Naturals
Those Nature People
Alexandria's Soap Garden
Madge and Gert
Lisa Napier Sews
Intl. Robot
SPaZ empire LLc
WoollyMammothDesign
Miss Mossy
Aisle 3
Dazey Destroyah
Jamms
The Yarntoad Collective
dang argyle
Made With Luv
My Bosom Buddy, LLC
Brodacious Bags and Kaylin's Karryalls
From J.Loo To You
MIO DIO
Grasshopper Handmade
Ms.Christa's Rockin' Accessories
Random Noise Bursts
Sweet Sugar Beet
Tilt Creations
ttishbite
JG-Just Gale Creative Jewelry Design
Kim Ballor
MAH Hemp Jewelry
Miapolia
New Jerusalem Jewelry
Shellie Sharee Creations
Blackenedruby Jewelry
Conjured Creations (formerly Bluebird Creations)
Courtney Fischer Jewelry
Christine's Beadworks
All Wired Up TOO
simplybree & softieville
ljlh*designs
MuggyTuesday
SEEDS Studio
Stone Sheep
Unseelie Designs
Audreybelle1910
Crochet Science
Yarnscratch
Telly2Bitt Creations
Frankenstitch Productions
Chuber Pottery
Rachel Quinlan
Barrel of Monkeys
Beautiful Junk
Comfortably Lovely
threesixfive
Stick Nymph
Morgan Smorgasbord
RAWR INDUSTRIEZ
Butter Bean Inc.
Spring Craft Market
presented by Flint Handmade
Saturday, May 1st
10:00am – 4:00pm
Downtown Flint
444. S. Saginaw Street
Flint, MI