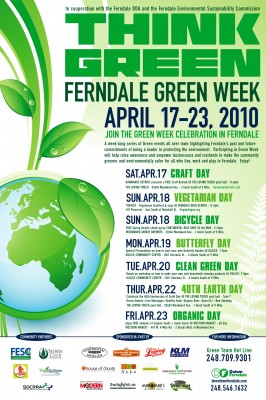 The Loving Touch in downtown Ferndale. Lots of great shopping, lots of nice vendors… you get the idea. Oh! Did I mention that Mother's Day is right around the corner? I'll make you a bet your mom likes handmade gifts… just sayin'.
We're also happy to announce that Craft Revival kicks off Day 1 of Ferndale's Green Week. Don't forget to bring your reusable bag for your Craft Revival purchases!
Check out our vendors and be ready to say "Hey, crafter!" next Saturday from 11 a.m. to 6 p.m.
Always the Forest
ASTA
Barrel of Monkeys
Broad Street
Christine Edwards
Courtney Fischer Jewelry
dang argyle
detroitGT
enamor

Glass Action!
Jones Press
LMNOP
make-out goods
my marigold
My Vintage Kitschen
Nice
ornj bags
Perfect Laughter
Phantom Limb
Pinky Blaster
R'eal Life Empire
Reware Vintage
Sarah Jo
Simplybree
So and So & Nobody
Softieville
Sweet Plum Vintage
TalkingSquid
Ttishbite
Wee Revolution/Detroit Baby
Wound Menswear