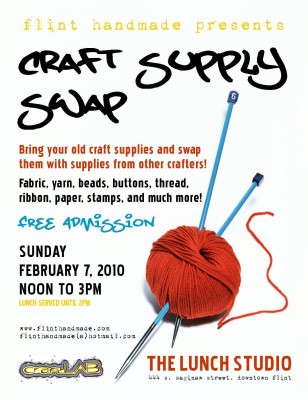 Flint Handmade will be hosting it's semi-annual Craft Supply Swap this Sunday at The Lunch Studio in downtown Flint!
It's completely free, and a great way to trade in any craft supplies you won't be using for some new ones! The swap runs from noon til 3 p.m., and Flint Handmade will also be selling swag with their new logo (which we love).
I went to the first swap they hosted with my friend Crissy, and not only got to clean out my office and fabric stashes, I also picked up some great vintage pattern books and a bunch of neat buttons. It's a fun event, and is sure to get your creativity sparked (plus a great excuse to not watch football).
To see some pictures of a past swap, and for more information, check out Flint Handmade's blog.