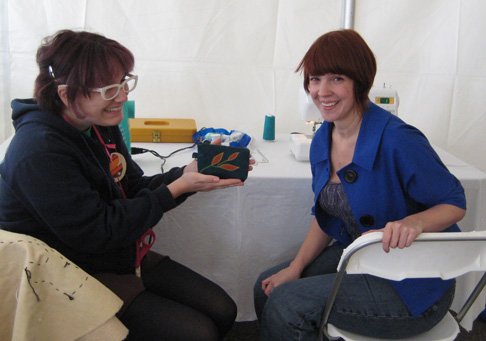 Besides hosting the Rethunk Tent at the upcoming Green Street Fair in downtown Plymouth, May 1-3, Handmade Detroit is also happy to be hosting Swap-O-Rama-Rama again at the fair as well! The Swap-O-Rama-Rama, created by Wendy Tremayne, is a licensed clothing swap and DIY workshop that has been all over the country!
The Swap-O-Rama-Rama encourages swappers to modify their new finds and create new uses for what might otherwise be cast away. We will be setting up sewing stations (sewing machines provided by Singer), and using donated clothing, craft and sewing supplies to teach people of all ages sewing skills and how to be green through creativity (did I mention it is free for participants, too?)
The Swap-O-Rama-Rama was a lot of fun last year, and we had such a blast! The success of the SORR was entirely due to our fantastic volunteers who helped teach how to cut, stitch, press and sew each item to beginners and experienced sewers alike.
Would you be interested in volunteering this year?
We need lots of help, whenever and for how long you'd like to that weekend, and volunteers do not need to have sewing experience! We need help in greeting and explaining the swap process to people, volunteers to assist swappers in finding the perfect item to use in their project and of course, sewers to help teach simple projects on a one-on-one basis with participants! Projects that were especially popular last year were pillows and simple tote bags and purses … you don't need to be a professional sewer to help, just a basic understanding of a sewing machine and construction is great!
Volunteers are needed:
Friday, May 1st 11am-7pm
Saturday, May 2nd 9am-7pm
Sunday, May 3rd 9am-5pm
Feeling unsure about even being near a sewing machine? The Green Street Fair is also seeking volunteers to help with their new addition to the fair – Fort Box. From their website :
"To kids, few things are as enchanting as a bona fide fort. With a little imagination, an old cardboard box becomes the center of the universe – a place where entering requires a secret handshake, a password or a classified knock. But building a fort is just as much an adventure as playing in it. Fort Box will resemble a small village where children of all ages can gather, share ideas and swap secrets. Green Street Fairs Cardboard Crew will also be on-site encouraging the children how to build upon the existing fort structures by using recycled materials. Fort Box will be located in Kellogg Park."
If you are interested in volunteering at the Swap-O-Rama-Rama or Fort Box, please email with the day(s) and time that you would like to help at bethany@rewarevintage.com. Thanks so much!!!
Beth and Lish