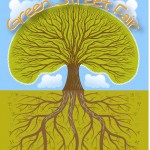 Le whoa! Can you believe it's already been a year since we met up in Plymouth, had a craft fair, learned how to sew and become greener? Well, it has been!
More details to come, but Handmade Detroit is back this year for the 2009 Green Street Fair in downtown Plymouth May 1-3. Not only will Swap-O-Rama-Rama be back and bigger than ever (now featuring Singer machines!), but we'll also have a vamped up Rethunk craft fair, too!
So, lovely readers, we need you! We'll need vendors and volunteers… lots of 'em! Check back Sunday night for all the details. Until then, stay tuned!