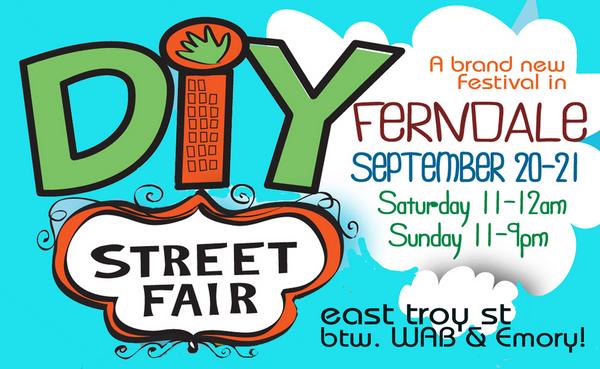 Woo hoo! We are taking part in two big events this weekend. First up is the DIY Street Fair in Ferndale, which our own Carey has helped organize!
The fair takes place from 11 .m. to midnight Saturday and 11 a.m. to 9 p.m. Sunday in the southeast corner of Woodward and Nine Mile roads.
From the DIY site:
"This free 2-day event invites artists, hand-made crafters, local and national businesses, non-profit groups and organizations, musicians, local restaurants, michigan brewers and others who live and work with a DIY (that's, "do it yourself") ethic.
Highlights include: a main stage featuring live performances by 30 original bands;  a beer garden where guests can sit, relax and enjoy beverages from michigan-based breweries and culinary crafts from local restaurants; street performances, artist/vendor demos; and for the kids … hands-on, do-it-yourself crafts workshops, and entertainment. We know everyone will enjoy this new Ferndale tradition and we look forward to seeing you here!"
 Under our tent all weekend will be work by:
Tons more info on the DIY Street Fair site. See you there!