Each Friday, I post the stuff— cool projects, inspiring photos, call for artists, events – that I bookmarked that week. I hope you'll find something in here to inspire your weekend making sessions. This week I'm making up for no last week. Lots of good stuff!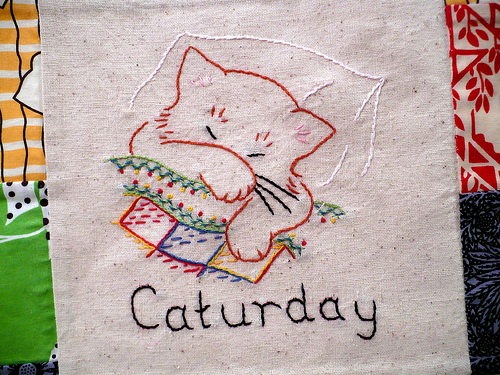 Inspiring: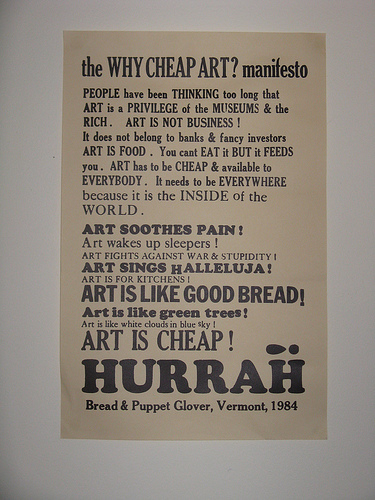 Democratic Art by Dave & LJ's Adventures
Projects:
Events/calls:
 Sunday is Loop Social Circle at the Dearborn Glass Academy. We're going to get a tour and craft it up at this nifty space. Come join us! Here's all the deets.
Yes, today (Friday, August 15) is the deadline for DUCF! No late applications excepted!
Art v. Craft and City of Craft applications are both live with a deadline of August 31.
Hatch is currently accepting submissions for its next exhibit, "WSG: Fake Flyers for Fake Gigs"
"Starting Sunday, August 24 and throughout the month of September, Hamtramck's Cafe 1923 will be playing bulletin board to a growing collection of outlandish concert flyers, posters, and handbills; and we want YOUR designs!
Submit as many designs as you want. The flyer must promote an imaginary event. Imaginary acts and venues are preferred; please don't use this exhibit to promote your own or upcoming show (besides, we know you have a great idea for band name — here's your chance to use it). Concert flyers are our focus, but all sorts of flyers (yard sales, lost pet, etc.) will be accepted, as long as they RAWK.
Size/Format: 11″ X 17" or smaller. Printouts and photocopies preferred: send originals at your own risk, they will not be returned. We will be treating these like actual flyers. They will be subject to tearing, staple damage, or may be partially covered over as the weeks go on.
How to submit: On Sunday, August 24, 10 am – noon, bring submissions in person to Cafe 1923, 2287 Holbrook Street, Hamtramck. We will be hanging on that day.
Hatch can print out black-and-white work, 8.5″ x11″ or smaller.
E-mail digital files to Carl at popartmonkey@yahoo.com or Matt at feazell313@comcast.net 
Contact popartmonkey@yahoo.com with additional questions and to make other arrangements.
We'll be having an opening on Friday, August 29, 7-9pm. Bring your own musical instrument and form a fake band with fellow attendees! Come for the opening and then head uptown for the Hamtramck Labor Day Festival, where Hatch will have a booth.
Please pass this info on to any interested parties. Yes, it's short notice, but some of the best flyers are made on short notice. Hope you can join us!"
Previously on Weekly Reader.