In early April, a neighbor and friend of mine called me and shared the exciting news that the cast and crew of Youth In Revolt was not only coming to Ferndale and had chosen his house for the main interior shots!
When they arrived for the filming, he wanted to give the main principles of the film (Director, Props, Music Director and lead: Michael "Juno/Superbad" Cera and more) very special gift bags as a thank you, so he asked me if I could help with local/crafty swag donations to show them what we're made of.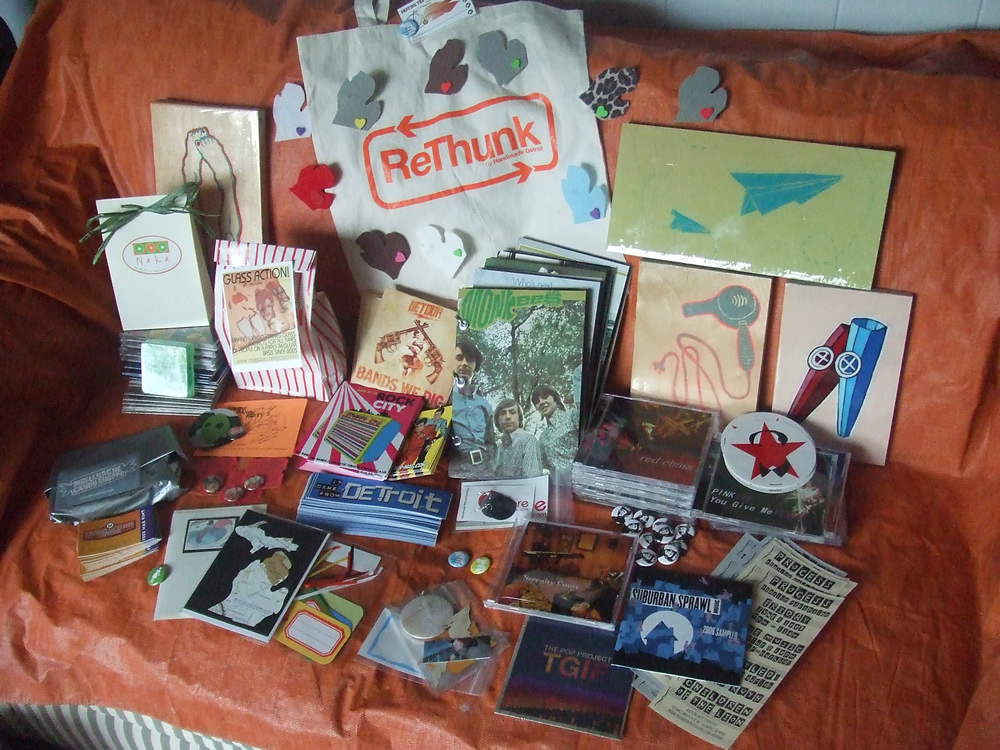 It took about a month to collect items for the 10 bags, and properly pack all the wonderful goods!
We started with the Handmade Detroit Rethunk totes that were made for Green Street Fair in Plymouth and tossed a few Michigan Pins in.
Naka's Kelly Pettibone sent along Michigan Map Soaps from City Bird, Scotty Hagen from Bellyache Candy Shoppe handed over some stickers, candy and Scarlet Oaks latest ep, and our friends at Woodward Avenue Brewers donated "Free Beer" vouchers.Local music CDs included The High Strung, Serenity Court, Pinkeye and The Pop Project and more.
Sandhya Hutchinson, owner of Royal Oak's Flair Boutique made Handmade "I <3 Detroit" keychains and included promo discount cards.
Our own Bethany, Lish & Stephanie sent along 5 record votebooks, handmade vinyl earrings and pin sets, stickers, gift tags and greeting cards … and I couldn't resist creating a GLASS ACTION! original night-lite of Michael Cera .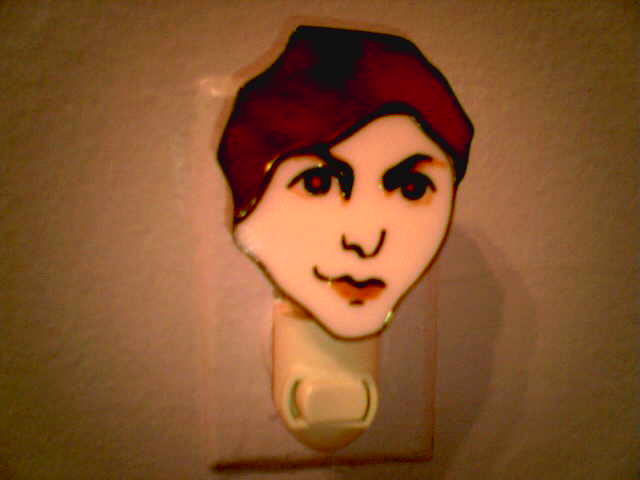 There were even more items, the list goes on an on!
I just recently got word of the response from my pal:
"The bags were a huge hit. I've distributed them to the "major players" over the last few weeks with the last one being given to Michael Cera during the shoot at my house. He was overwhelmed. He appreciated it all and talked about the new house that he had bought and how he planned on hanging stuff on the walls from the bag. He was also looking forward to listening to the music that was included. All in all I think that this was very successful and I appreciate the effort that was put into this. I really think that this represented our town in the most appropriate way."