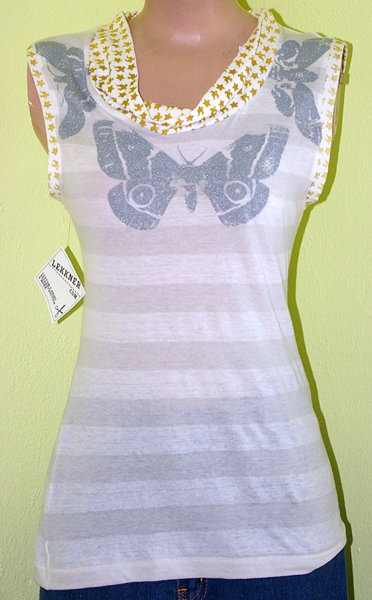 I wish I had time to snap a photo and post all the awesome donations to the DUCF raffle, but this will have to do until you peek them all on the Handmade Detroit table. This awesome handmade shirt was donated by Lekkner, one of the the 2007 vendors. This is one of 6 shirts we have to raffle from donators including Henrietta Fahrenheit (who reports she will be holiday shopping at DUCF), VG Kids (our fab silkscreen sponsor) and Nicole Lindner (our adorable intern)!
Just some of the other raffle items:
+ A $25 gift certificate to MY MY
+ A handmade trinket box and magnets from Girl Land (another 2007 vendor)
+  Gift certificates for free promo buttons from pinbackattack
+ Craft and design books from PA Press
+ And lots more!
Raffle tickets are $1 @ the Handmade Detroit table during DUCF and proceeds are helping set up a grant for a local DIY maker's project in 2008.