Though DUCF 2.0 is a little over a month away, our celebration of all things handmade in the D actually starts July 5. You see, this year's DUCF ties into an art show @ the Majestic Cafe for the months of July and August.
"Make Nice Things About Detroit" is a mixed-media show featuring hometown-inspired work from local artists, crafters and makers. Exploring themes of "making in Detroit," the show aims to blur the lines between the art vs. craft debate and celebrate the unique creative muscle of Detroit.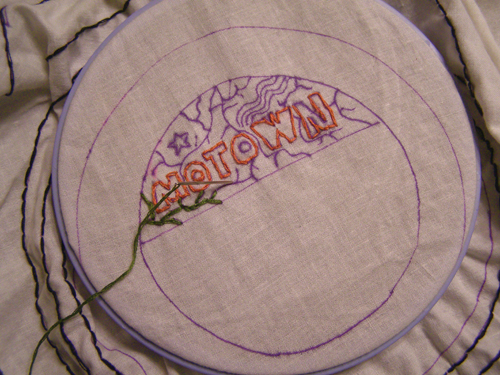 If all this artsy speak bores you, then, well, come see embroidered Motown records (like the one in progress above), an homage to 80s Detroit Zoo characters, giant works comprised entirely of 1-inch buttons and loads of other playful pieces by:
Sarah Burger
Phil Childers
Korin Louise Cox
Alicia Dorset
Alicia Gbur
Carey Gustafson
Leo Hanifin
Elizabeth Isakson
Bethany Nixon
Regina Pruss
Michael Ross
Michael Segal
Matthew Sheedy
Eugene Strobe
Stephanie Tardy
The opening reception is 8 p.m. July 5 @ the Majestic Cafe, 4120 Woodward Ave. (Hey, there's free food, too!)
Hope you can make it out!
p.s. The show's second "opening" on August 2nd will be the DUCF 2007 vendor meet-and-greet. If you are a DUCF vendor, we'll be sending you an invite and more info about this event soon.