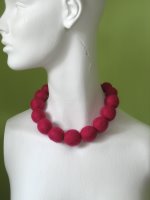 If you haven't checked out Biggie before, well, it's a good thing that you're reading this blog. I met Bridget this summer as she was setting up for the Detroit Urban Craft Fair. I made the mistake of waiting until the end of the day to pick up one of her necklaces; they were gone, a true sign of good stuff. Take a look at where she gets her inspiration for her felted creations.
Tell us a little bit about yourself
-Bridget Hanson, 28, Grayslake, Ill.
Do you have a traditional 9-to-5 job?
-Nope.
When did you first get into crafting and making? What type of activity was it?
I guess I've been making things since I was a kid, like friendship bracelets, God's Eyes, finger crochet, and other random crafts.
Why did you become interested in making?
I have always been drawn to fiber, textiles and color. It came natural to want to experiment with those, and to make them completely handmade. There are so many cheap, mass-produced items out there that aren't too happening. I sometimes find myself saying, "If only this color was different, or they should have made it like this."
What are your main products?
My main products are felted jewelry (earrings, necklaces) and handknit and felted bags, clutches and coin purses.
Is this a full-time passion of yours, or something on the side?
I'm trying to do it full-time.
How do you sell your goods? (Fairs, online, word of mouth, etc.)
I sell my goods on my website, at fairs, and I also have items for sale at stores.
What's the price range?
About $14-$60
How long have you been doing this?
As a legal business… about two years.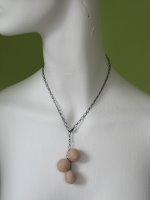 What kind of reactions do you get from customers?
I get all kinds of reactions. Some people don't know what the heck it is, some really like it, and say it's very different, and some people don't say anything at all, but touch everything.
Why do you enjoy making?
It seems like that's always the hardest question to put into words. All I can say is I can't think of a better way to spend my time.
What's the most challenging aspect of being a DIY business?
Being able to make a living at it is very challenging. Also, I usually end up doing a lot of trial and error when it comes to creating a new product. I want to make nice, quality products, and sometimes it takes a while to come up with the best materials or technique, but it's all still a lot of fun.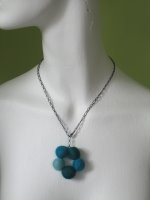 What's been the most rewarding aspect of your craft?
I guess making something that I like and others like as well. I like happy customers!
Do you have any tips or suggestions for someone interested in launching
their own line or simply interested in making for the first time?
There is a load of information on the Internet for someone who wants to start their own business. Sites like the Switchboards and Craftster are great forums of crafty types who are happy to share info on everything from taxes to supplies.
What one toy would you love to see available in McDonald's Happy Meal?
That's a hard one. I think I'd like to see a little Amigurumi guy in Happy Meals.