I've got a confession to make: I am a magazine (and zine) junkie. Happy happenstance, I am a junkie with a blog. Reading this article and the latest issue of Punk Planet gave me an idea. I can blog about (maga)zines! There are two ideas running in this: Highlighting national mags with particular interest in the handmade content and reviewing craft and local zines. If you are of the latter, information about having your zine reviewed here is at the bottom of this post. Happy reading!
This Week in Reading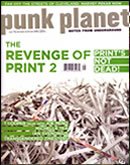 Speaking of Punk Planet, if you're interested in any kind of print media, and especially zines, you're going to want to check out this issue. It includes interviews with zine library runners, zine hero Cindy Ovenrack (whose perzine Doris is beloved by many) and an interview with once-self-published Harvey Pekar that includes a peek into his storyboards and the final interpretation. And regular feature DIY files is about throwing your own art show. Seriously, not to be missed.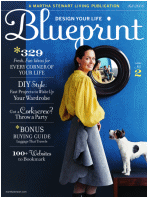 Oh the guilt of being a feminist and still liking Martha. This issue of Blueprint particularly questions my values — check out that happy husband and baby in the mirror of the cover shot. Let's all be breeders! Regardlesss, they do have some great projects aimed right at 20-somethings. (Sidenote: Where did Kids go?) This issue's crafty projects include turning buttons into rings. (Hint: You solder them.) And a special section on suede crafts, like this no-sew suede skirt and iPod case.
Literary zine Kitchen Sink might be the last place you'd turn to for crafty verbage, but this issue includes musings on the history and meaning of remade fashion and a simple how-to on turning pants into skirts. There are no online links, so you'll have to pick up the well-illustrated paper version.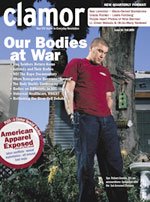 I've had the "American Apparel conversation" with a bunch of people. You know, "I like them because they are sweatshop free, but I hate them because they use naked woman bodies to sell t-shirts." Unfortunately, I didn't have a lot to go on of besides instinct. Thank goodness for this installment of Clamor, now in glossy quarterly format. If you're a t-shirt maker, you're going to want to read the American Apparel expose. The print issue also includes mock ads. Sidenote: You can read about the issues of printing such an article here.
Zinesters, read on!
+ If you are a Michigan-based or crafty zine maker, I'd love to feature your zine in an upcoming post. Please get in contact at handmadedetroit@yahoo.com or send them to the address on the right over there.
+ On a semi-related note, I'm looking for a copy of Slave to the Needles #2. Anyone got one they can part with? I'll trade ya some mitten pins.